'Family Guy' Episode Pulled After Internet Hoax Suggested It Predicted the Boston Bombing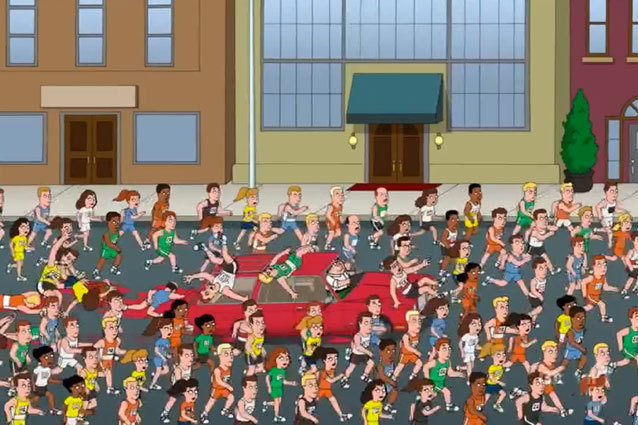 Yesterday, a mashup clip surfaced that purported to show Fox cartoon Family Guy "predicting" the Boston Marathon bombing. Creator Seth MacFarlane quickly declared that the clip had been reedited and was fake. But nonetheless that episode, called "Turban Cowboy," has now been removed from Hulu and Fox.com and likely won't air again on the network anytime soon. Fox pulled the episode late on April 16, and they also replaced a rerun that was to have aired Tuesday night of New Girl, centering on the suspicions of Jake Johnson's Nick that one of the classmates of Zooey Deschanel's Jess might be a serial killer.
MacFarlane took to Twitter to denounce the reedited Family Guy clip used in the Internet hoax, saying, "The edited Family Guy clip currently circulating is abhorrent. The event was a crime and a tragedy, and my thoughts are with the victims." 
Despite MacFarlane's protestations, "Turban Cowboy" was already pretty offensive to begin with. It featured Bob Costas interviewing Peter Griffin about how he performed at the Boston Marathon. A cutaway revealed Peter merely drove a car through the race course, running over and killing marathoners in his path and leaving pools of blood in his wake. "I'll tell ya, Bob, I just got in my car and drove it," Peter says. "And when there was a guy in my way, I killed him." Later in the same episode, Peter befriends a terrorist who plans to blow up a bridge. After he's dialed a phone, he hears explosions on the other end. The Internet Hoax cut it together so that it seemed like Peter caused the explosions with his phone call.
In December, following the Sandy Hook Elementary School shooting in Newtown, CT, Fox also postponed episodes of MacFarlane's Family Guy and American Dad that it deemed insensitive at the time.
Follow Christian Blauvelt on Twitter @Ctblauvelt
More:
That 'Family Guy' Boston Marathon Bombing Clip Is Fake
'Family Guy,' 'American Dad' Postponed in Wake of Sandy Hook
Patton Oswalt Shares Beautiful Thoughts in Wake of Boston Tragedy
---
From Our Partners


Jessica Alba Bikinis in St. Barts (Celebuzz)


Which Game of Thrones Actor Looks Least Like His On-Screen Character? (Vulture)