'Family Guy' Scoop: Expect Hookers, Meth, and Jon Hamm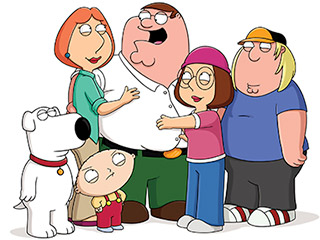 It seems today that all you see is violence in movies and sex on TV, but where are those good old-fashioned values on which we used to rely? Luckily, Family Guy returns to our lives in less than a month!
We've desperately missed the FOX animated hit, so to help stop this Buzz Killington of a hiatus, we've gathered details on five — yes, five — upcoming Family Guy episodes. From the premiere to the finale, Executive Producer and Writer Steve Callaghan tells Hollywood.com everything you ever wanted to know about the new season of Family Guy, but didn't know who to ask.
Callaghan, one of the first original writers of the groundbreaking series, says that fans can expect the premiere to be filled with tons of hilarious moments. "In our premiere, the Griffins decide to sort of one-up the family of Lois' old boyfriend," he says. "So they do the most logical thing any out-of-shape American family would do: They climb Mount Everest." Some high points include a "pukesicle," a who-has-the-better-pecs contest, and a new use for salad dressing. (Hint: It's not on salad)
Ready for more Quahog insanity? "We have en episode coming up where the Griffins become a Nielsen family," Callaghan spills. "Peter steals a bunch of Nielsen boxes to make television what he thinks it should be, which of course destroys television." And it looks like Family Guy is stealing a formula out of the Breaking Bad handbook. "Later in the season, the Griffins buy a farm and Peter ends up becoming a meth dealer." Science, Bitch!
Of course, we had to ask what's in store for our favorite sex-crazed, Lois-loving neighbor. "Well, Quagmire marries a hooker," the EP tells us with a laugh. Giggity! For those of you keeping score at home, this is the perverted pilot's second marriage — but of course the writers have made sure it is nothing like the first. "This time he goes on a drunken bender and wakes up unknowingly having married a hooker," he says. Who else but Quagmire?! (It's a line from the show, if you don't know it, we highly suggest YouTube-ing it.)
Family Guy is known for their wide range of amazing guest stars, and season 11 will be no different. "In the Nielsen one, we have a bunch of them," Callaghan spills. "J.J. Abrams, and Dick Wolf and Mark Burnett all play themselves. We have Jon Hamm coming on, we have a cameo by Johnny Depp… I'm forgetting a bunch right now but we have a lot!"
The reason that Callaghan is able to gift us all these scoopy nuggets is because he and the rest of the creative geniuses at Family Guy create their storylines months and months in advance. "We're actually working over a year ahead of time," Callaghan says. "We work so far ahead I can even tell you the finale." Oh yes, please please do!
The generous showrunner reveals, "The finale is a really cool episode called 'Roads to Vegas.' It's like a road show and Stewie and Brian teleport themselves to Las Vegas, but in the process [they] unknowingly create a duplicate of one another." Ruh Roh! "So one set of Stewie and Brian have the best possible Vegas experience and the other has the worst possible Vegas experience." Now you just have to wait nine short months until you see it.
Which new episode are you most excited to see? How do you think the Griffins will do on Mt. Everest? Already dying to see this season's finale? Shout out your thoughts in the comments below!
Season 11 of Family Guy premieres Sunday, Sept. 30 at 9 PM on FOX
Follow Leanne on Twitter @LeanneAguilera
[Photo Credit: FOX]
MORE:
Seth MacFarlane's 'Ted': A 2012 Success Story