Fans Can't Stop Leaving Dumb Graffiti on 'Jersey Shore' House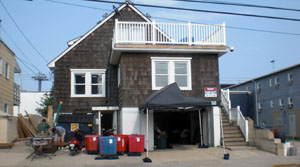 Many of us always dreamed of taking a trip to Seaside Heights, New Jersey — where MTV's hit reality scourge Jersey Shore is filmed and dancing at Aztec, shopping and at the Shore Store, and puking on the boardwalk, just like the eight dirty denizens of one well-worn summer house. What I never dreamed of doing was going to their domicile, scribbling my name on it, and stealing part of the siding as a souvenir. Apparently I was the only one, because rogue bandits are driving this sacred shrine to ruin.
According to the Realtor who cares for the house (ostensibly owned by the crew's boss, Danny, who also owns the Shore Store where they work) and makes bank renting it out for $2,500 a night on the off season, crowds of well wishers keep vandalizing the house. They come by and write their names in Sharpee on the white walls and leave messages that say, "We Love Snooki." Well, of course you love Snooki or else you wouldn't have gone out of your way to find this landmark. Couldn't you leave something surprising, reality TV fiend? Couldn't you scribble a quote from Hamlet or an ode to Snooki's rabbit costume Lola, or even a little haiku for the Duck Phone? You've come all this way to New Jersey on this pilgrimage, give it at least a second of thought, please. At least tip your hat to Sammi and Ronnie with an "I'm Done."
Apparently there are so many visitors that the house has to be repainted every week and people are ripping off the siding and taking roof shingles when the show isn't being taped. Well, if it costs so much to repair the house, why not hire a security guard? And it's hard to have that much sympathy for the leasing agent, since their website is plastered with images of the house. We called them up to hear more about the situation (ha!) but they have yet to call back.
Luckily for the sleepless real estate executive, DJ Paulie D and Co will be back in the house for one final (we hope!) time this summer so they can stop worrying about what's happening to the outside of the house and go back to worrying about what these kids are doing on the inside.
[TMZ]
Follow Brian Moylan on Twitter @BrianJMoylan
More:
'Jersey Shore' Renewed for Season 6
Pauly D Sued Over $4 Million 'Jersey Shore' Paycheck