'Fargo' May Be Headed to TV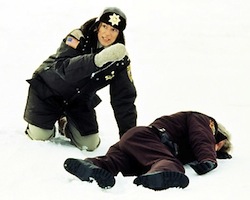 It seems FX took a look at its lineup and decided there weren't enough shows about woodchipper-related homicides. The network is reportedly in talks to turn Fargo, the Coen brother's 1996 black comedy, into a TV series.
The project is still in its early stages, and few details are available. However, you don't have to guess what the show might look like, because it's actually been tried before. In 2003 Edie Falco starred in the pilot for a failed TV adaptation (clip below):
If FX really wants to do something original, maybe it should try turning No Country for Old Men into a half-hour comedy romp.