Fashion Lessons From The Cast Of 'Revenge'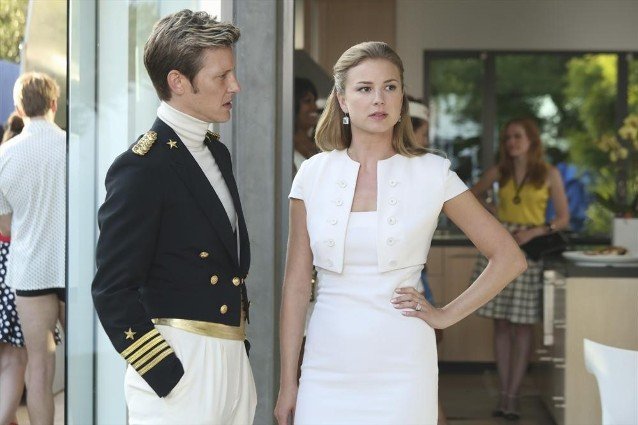 ABC
There's a lot you can learn from ABC's Revenge and the drama therein; how to fake your own death, how to fake an entire relationship, how to blackmail, frame, or ruin anyone's reputation in the Hamptons. But you can also learn how to look fabulous while doing all of these very shady things (or while doing nothing shady at all, depending on what you're into). Here's what we've learned about fashion from some of our favorite characters on Revenge.
 Emily Thorne 
When attempting to take down high society in the Hamptons, keep a reservoir of fly little dresses at all times. Red, white, black, indigo — all colors are necessary for a summer of revenge on the water.
Margaux Lemarchal
Upgrade the hell outta your pixie cut with some side-swept bangs. Also, try to be French like Margaux. If you can't be French work on your faux French accent while fixing your side-swept bangs in the mirror.
Victoria Grayson
Let's be real—for bad bitches everywhere there's pretty much only one color: red. All-red everything. Granted, Victoria has worn other colors, but she's never more terrifying, more Victoria Grayson-like, than when she's rocking a red dress and giving everyone the steely-eye.
Nolan Ross
Nautical wear is not just for the nautically-inclined, says our favorite faux sailor.
Jack Porter, Daniel Grayson, and Aiden Mathis
If you have the abs, try to be shirtless as much as possible. If you have the abs and a newborn baby (hi Jack), try to be shirtless as much as possible while holding the baby. Kthnxbye.