Top 5 TV Females to Watch This Fall
With the past two Septembers bringing us break-out series like The Mindy Project and Scandal, Hollywood is proving that strong female leads are here to stay. Zooey may want to hold onto her adorable thick-framed glasses though, there are some new girls in town.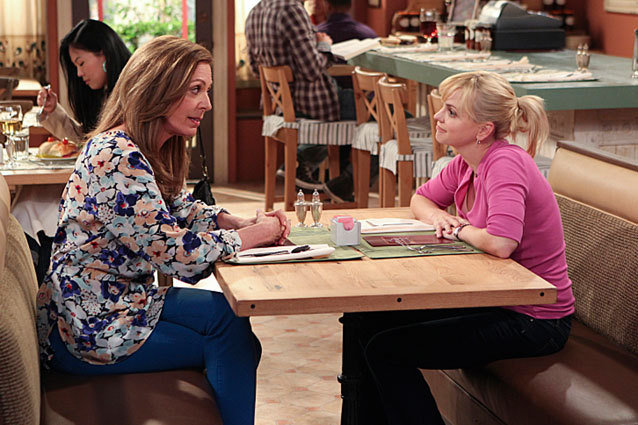 CBS
Mom
Is Anna Faris finally sobering up from her days as everyone's favorite house bunny? As struggling single mom Christy (Faris) tries to navigate raising her children and dealing with her past, her own mother (Allison Janney) insists on lending a bit of knowledge to the process. You may not be a recovering alcoholic but let's face it, we can all relate to the power struggle that comes with overbearing parents. As both female leads will face ups and downs with their family, romantic lives and jobs, maybe we can learn a little about compromise and acceptance within our own home units. Premieres Sept. 23 on CBS.
Agents of S.H.I.E.L.D.
Joss Whedon is no stranger to creating some paramount female characters. Seriously, did no one else fantasize about slaying demons while still maintaining perfectly straight hair? This fall he brings us three new women in the premiere series Agents of S.H.I.E.L.D. Elizabeth Henstridge, Ming-Na Wen and Chloe Bennet comprise half of the six member team dedicated to protecting the boring, normal citizens of the world from the usual super-human villains. Premieres Sept. 24 on ABC.
Reign
America's newfound obsession with period dramas isn't going anywhere soon but far from Downton Abbey is The CW's newest series Reign. The 15-year-old Queen Mary (Adelaide Kane)  is politically savvy — sent to France to marry a prince and finalize an alliance between the country and Scotland — and isn't about to take any crap from her future in-laws. Of course, like any other teen monarch, Mary faces betrayal, some catty royals and those pesky dark forces that wind up in every countryside castle. No doubt the young queen will take on the French Court and come out on top and teenage girls everywhere will learn just what it takes to deal with arranged marriage and Nostradamus's prophecies in 16th-century France. Premieres Oct. 17 on The CW.
Masters of Sex
If Lena Dunham's Girls didn't do it for you, maybe Lizzy Caplan's portrayal of a sex researcher in Showtime's Masters of Sex will. The one-hour series will chronicle the work of Dr. William Masters and partner/wife/ex-wife Virginia Johnson as they attempt to bring both science and the public into the discussion of intimacy and sexual behavior. Don't worry, this won't be 60-minutes of medical labs: the relationship between the two will be the more explored element of the show. It's worth to watch not simply for what we're sure will be some explicit scenes, but to learn more about the pioneering life of Johnson and the courage it took to talk openly about these subjects as a female in the 50s. Premieres Sept. 29 on Showtime.
Once Upon A Time In Wonderland
The adventures from Once Upon A Time aren't over yet — even if the girl is stuck in some mental institute somewhere in the boondocks of Maine. Spinoff Once Upon A Time In Wonderland will follow lead female Sophie Lowe as she portrays everyone's favorite fairytale character. Finding her way back to the rabbit-hole is the least of her problems: once she's there the residents of Wonderland are sure to begin giving her hell once again. If you can learn anything from Alice, it's that you should definitely avenge your genie-boyfriend's death and fight against the Queen of Hearts. Premieres Oct. 10 on ABC.
More:
Kirsten Dunst and Jason Sudeikis Begin New Movie
The Best British TV You Can Stream Right Now
Fall's 15 Most Anticipated Albums
---
From Our Partners:


40 Most Revealing SeeThrough Red Carpet Looks (Vh1)


15 Stars Share Secrets of their Sex Lives (Celebuzz)