Your Moment of Hubris: The Best of Kenny Powers
With Eastbound & Down  returning to HBO for a fourth and final season on September 29, let's take a look back at some of the most hilarious moments from the show's bilious star Kenny Powers (Danny McBride).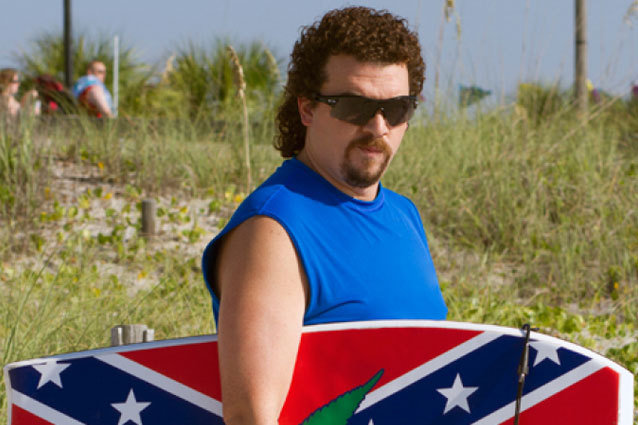 HBO
He Knows How to Inspire
They say greatness can never be taught. K.P. certainly believes that.
From "Chapter 11," Season 2: "If at first you don't succeed then maybe you just suck."
He's a Role Model
More like the poster boy for how not to have you your children grow up.
From "Chapter 5," Season 1: "Stay in school. "Fight the Power. And don't do drugs. Unless of course you're doing 'em with me. Never turn down free drugs." 
Even Kenny Has Needs
Sure Kenny was once at the top of his profession. But that hasn't stopped him from slumming it every once in a while.
From "Chapter 1," Season 1: "A lot of people ask me, 'Kenny Powers you're a giant star – you can get any woman. Have you ever paid for sex?' The answer is yes, I have. Several times in fact. And it's actually kind of cool. You can negotiate practically anything, and sometimes even just kind of do stuff in the moment you never agreed to pay for, and it goes by without much argument." 
He's Incredibly Immature
During his brief sojourn as a gym teacher in his hometown, Kenny gives this sage advice to a student.
From "Chapter 1," Season 1: "You know what? I can already tell that I don't like you! And I'm probably not going to like you no matter how many pull-ups or push-ups you do! If anybody wants to pick on anybody in class, aim for him, cause I ain't watchin'." 
He Cares
In this reference to Roots, K.P. shows his softer side. Or at the very least, what he'd like you to think is his soft side.
From "Chapter 14," Season 3: "I also didn't want to name the baby Toby, because that's a racist name. Am I correct?"
More:
'Breaking Bad' Recap: Season 5, Episode 13
100 Years of Quietude: Sci-Fi That Broods
A Tribute to the Robot of 'Futurama'
---
From Our Partners


Stars Pose Naked for 'Allure' (Celebuzz)


20 Grisliest TV Deaths of 2012-2013 (Vulture)