Five Things You Need To Know About The 'X Factor' Premiere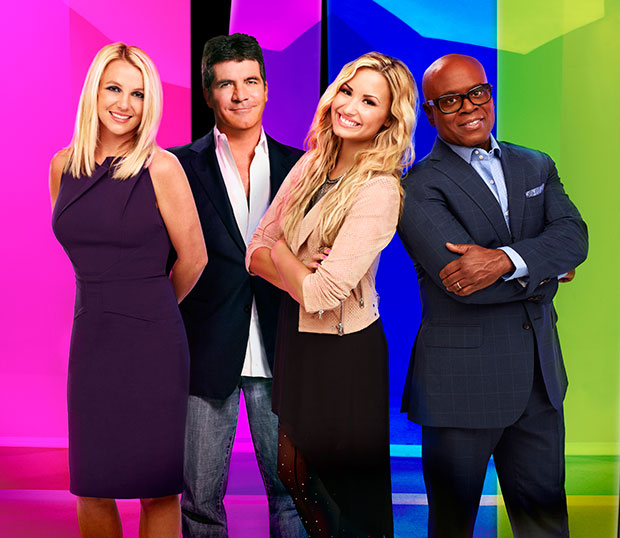 It's here. It's here. It's finally here! After months of anticipation, the night where everyone finds out if Britney Spears can do live television has finally arrived. Well, SPOILER ALERT: Hollywood.com attended the X Factor premiere at Grauman's Chinese Theatre in Hollywood last night — and we can confirm that she totally can. In fact, we don't know why she wasn't doing this sooner. But Britney's bitchy one-liners were not the only highlight of the evening. Below, please find five things you need to know about tonight's revamped X Factor:  
1. It's a totally different format
Last season, the presence of host-slash-Thanksgiving-enthusiast Steve Jones led to a typical format of auditions being narrated by a third party. This year, the auditions are totally host-less, leading to a much more behind-the-scenes feel. The cameras show what it's like to be a contestant on a show like this, as well as the frazzled nerves of Spears and other new addition Demi Lovato before their first day. Honestly, we like this version much better — having the cameras focused on the actual performers rather than a Ryan Seacrest figure lets us see the cattiness that goes on backstage. It's quite brilliant.
2. Come for the Britney (Stay for the Demi?)
It's obvious that Britney and Demi are going the completely opposite route of ex-"judges" Nicole Scherzinger and Paula Abdul, who were far too wishy-washy with the contestants. In this episode, Britney is shown brutally slicing and dicing contestants that don't quite make the cut — and tearing up over seeing a familiar face. (It's EPIC!) She's not exactly "the queen of mean" (as Simon Cowell kept saying last night), but she knows what she wants and stands by her decisions. However, despite the fact that the show's producers made Britney the star of the premiere, it's Demi whose intelligence, charisma, and chemistry with Cowell shines through — we think this ex-Disney princess was born to be a judge.
3. There are evil blonde villains
Miss the nasty blonde incestuous Lannisters of Game of Thrones? So do we! But while we wait for their spring return, the evil blonde Texas sisters on tonight's X Factor are a suitable replacement. In fact, it's entirely plausible that these girls are part Lannister. They roll their eyes, bully a single mom, and insult pretty much every contestant that takes the stage (because, naturally, the other contestants aren't as pretty as them). How does younger sis fare in her audition? You'll have to wait and see, but definitely be sure to keep an eye on these two.
4. Beware the "Candyman"
Honestly — there are no words. You'll know him when you see him. That dude with the bees is nothing compared to this creep.
5. Simon is TOTALLY looking for the next One Direction
Oh, hey, did you know that Simon Cowell discovered British boy band sensation One Direction? No? Because he's only mentioned it about 3,939,932 times. The groups on last year's X Factor — coached by Abdul — crashed and burned early in the competition, but we think that Cowell is going to take over the groups this year just to prove that he can do it again. In tonight's episode, you'll meet a swoon-worthy (and very talented) group that should go far.
Watch X Factor tonight at 8 p.m. ET/PT on FOX.
Follow Shaunna on Twitter @HWShaunna
[PHOTO CREDIT: Fox]
MORE:
'The Voice' Shows 'X Factor' Some Teeth: Why It's All About Britney