Five TV Faces To Look Forward to in 2011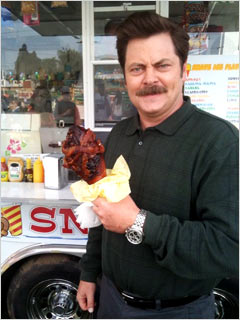 Every year, television takes a back seat while we all enjoy the holidays and celebrate the New Year. By the time those festivities are over, most of us are back to work, but sadly we have to wait until mid-January before we get to sink our teeth into some new small screen material. Seeing that the New Year is already upon us and we're into the last two slow moving weeks before TV is back in full swing, it's a good time to discuss those 2011 TV faces that we're clamoring to see. Lucky for us, some of them will show up as early as this week, but it's only a sample of their potential throughout the rest of the season. Oh boy, oh boy.
5. Paula Abdul
Remember when American Idol lost Paula Abdul and that element that made you question whether it was you or Paula who was under the influence of a Hunter S. Thompson sized suitcase full of narcotics was banished forever? Her insane sunshine and rainbows psychobabble made contestants believe they could sing like Aretha and gave loyal viewers weeknight giggle fits (and an excuse for a very successful drinking game when some of us reached college age); and despite her best efforts, Kara DioGuardi never really managed to drum up enough of a conflict with Simon Cowell. It just wasn't the same. Now Paula's got her own show, Live to Dance, and she's doing it her own way, which only means one thing: pop the bubbly because the flood gates of crazy are about to open. Okay, so maybe I'm just excited about Paula Abdul the same way I was excited about Tyra Banks getting her own talk show — because I enjoy seeing the craziest bits when they show up on The Soup or as hilarious viral videos out on the interweb. But hey, I'm allowed to be excited for that, right?
Hopefully we can expect some of this:
4. The Christmas Tree Lady (John Roberts)
In this case, you won't actually enjoy seeing Roberts' face, but you will hear his voice and, trust me, that's plenty. Now for those of you aren't privy to delight that is The Christmas Tree Lady (or internet sensation Roberts in drag) check out his classic webisode below as well as his other comedic gems here. Now that you've brushed up, I hope you're as excited as I am that Ms. "Who Wants Baileys?" herself will be taking his/her talents to television on Fox's new cartoon show, Bob's Burgers. The show may or may not deliver – the promos are a little ambiguous – but the real point of excitement here is the fact that John Roberts' long-lived internet persona now has a weekly place and a foil in the form of H. Jon Benjamin's cantankerous Bob. Here's hoping the show doesn't crumble around this winning combination.
Come ahhhhn, it's the tree, look at my tree.
3. James Franco
Besides the fact that he's pretty much doing every creative project known to man in 2011, Franco is also slated to lend that mischievous grin to a few shows this year. First, and most publicized, is his decision to host the Oscars simply because his "people" told him not to. He'll host alongside Anne Hathaway, but while I love me some Hathaway, I'm waiting for Franco. Thanks to Ben Stiller's Avatar joke during last year's ceremony (and drooping ratings) I'm hoping that the door is open for James' multifaceted personality to run amock amidst all the glitz and glam. And as if that wasn't enough, shortly after the Oscars, Franco will make his triumphant and death-defying return to General Hospital, which I won't be watching in its entirety but instead in the form of YouTube clips the next day. Welcome to Francophenia, indeed.
Here's a look at Franco at his melodramatic best.
2. Deena Nicole Cortese
Untz, untz, untz, untz. If that terrible rendition of a club beat gets you fist pumping and frolicking like Pauly D, then wait until you see the lucky (?) lady who replaced Angelina on the Jersey Shore. Apparently the first episode includes her talking about vibrators with Snooki, calling Sammi the c-word, stripping down for the Situation and later trying to drunkenly crawl into his bed. If this is how she says "Hello" just imagine what she'll do once the drama really gets rolling. Get ready to turn off your brain and feel better about your own lives because this season, it looks like things are going to get unreal.
Enjoy a little sneak peek at the action.
1. Ron Swanson (Nick Offerman)
Do I really need to justify this selection? I mean, he's Ron F***ing Swanson (they can't curse on network television, but the sentiment still remains). He's a woodsman, craftsman, and public servant; he can smell bacon from a mile away; he drinks scotch like it's water; he doesn't have some pansy ass sleep issue like insomnia, no – Ron suffers from sleep-fighting; when he's not devouring a breakfast buffet he moonlights as Pawnee's local smooth jazz star, Duke Silver; and though he wants to use his dying breath to tell his ex-wives how much he hates them, he still believes in love. Intrigued yet? When you've had too much of Amy Poehler's bubbly Parks Department Deputy, her boss, Ron Swanson is there to bring the bacon grease and man musk to take the edge off. If you've never seen Parks and Recreation, then here's your reason to start and if you've already witnessed the pure force of manliness that is Ron Swanson then I'm sure you're already preparing the single malt, cigars, and double steak dinner for the show's Jan. 20 return to the small screen. Until then, here's a little graphic representation of the man himself.
This montage is a little cheesy, but excuse the cartoon bullet holes and enjoy some good ol' Swanson goodness.