For Your Consideration: 'The Killing'

The overall quality of television shows has gone up in the last decade, so much so that it can be difficult to keep tabs on everything. All too often you hear about a show's greatness, only to put off watching it because the season is already halfway through, and you hate commercials and would rather watch them all back-to-back once it's over; or your DVR is already full, so you'll just wait until the show is on DVD to power through it in a long afternoon marathon; or, well, any number of other totally valid reasons.
However, when it comes to AMC's stellar new series, The Killing, I hope people don't sit on it. I hope they don't acknowledge the buzz around it only to wait a few months and then exclaim with dejection, "Oh, that show got cancelled? I heard it was really good, and I was just about to start watching it, but now I guess I won't bother." Don't be that person. If you appreciate serialized mysteries at all, get in on the groundfloor now. You'll be singing The Killing's praises in no time — and it won't take long to catch up, as there's still half a season's worth of episodes left to air.
Who Made It: Before getting to where the show came from, let's spotlight where the show ended up. A few years ago people laughed off the idea of AMC producing original television. Sure, they play great movies, but they also have more commercial breaks than any other movie network on the planet (or so it seems). Plus, they're not HBO, so by default any attempt to make a serious, adult drama is obviously going to be a pale imitation.
Or so everyone thought. Then along came Mad Men. It was considered a fluke for the network, until Breaking Bad started up. Then came Rubicon, the best show of 2010 that no one watched, followed by The Walking Dead. Basically, AMC's spotless track record (Rubicon may have gotten the axe, but it was a great show) has earned them a phenomenal amount of TV cred in just a few short years — The Killing is just as good as any show they've produced so far.
As for where The Killing came from, it's actually a remake of a 2007 Danish series called Forbrydelsen ("The Crime"). And, yes, I'm all for less remakes and more original content in the world, but this is a best-case-scenario remake: The original source material is more or less unknown in America, plus several of the original Danish producers are on board the AMC series as producers.
Who's In It: A host of incredibly talented people, ranging in familiarity from "Where'd this amazing actor come from?" to "Hey, it's that person!" The series stars Mireille Enos (Big Love), Michelle Forbes (True Blood, Battlestar Galactica), Joel Kinnaman (The Invisible), Brent Sexton (Deadwood), Eric Ladin (Generation Kill) and a whole lot more.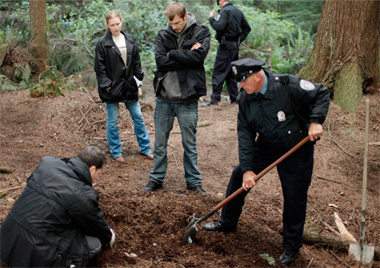 What's It About: The Killing is about the police investigation into the horrible murder of a beautiful high school girl. Now, before you start raging about it being a blatant ripoff of Twin Peaks, don't; the two are vastly different in tone, style and story. Though each episode of the show is framed around a 24-hour period in the investigation, this isn't strictly a procedural investigation. The story isn't told only from the point of view of the police, instead leaning heavily on the girl's family for a large bulk of the surprisingly hard-hitting drama.
There's no CSI-esque tracking of the killer using computers and reflections off of grapefruit juice (or whatever kind of nonsense that show tends to pull), no jaw-dropping twists and turns. That's not to say this is a simple story — it clearly isn't; it's just that the show's producers understand everyone has seen that kind of stuff a million times over before. So instead of trying to wow you with sudden surprises, The Killing impresses with a consistent restraint that most TV shows are born without. This is the kind of television where an episode's biggest moments aren't loaded at the opening or the closing. Hell, the most dramatic moment in one of the recent episodes wasn't a revelation about who the killer may be, but a heartbreaking moment where the parents had to give the funeral home a dress for their daughter to wear. Twin Peaks this is not.
Why You Should Watch It: The Killing is the best show currently airing on TV. Yes, it's better than Game of Thrones and Treme, two shows of which I also am a big fan. Yes, it's better than anything Showtime is putting out. Not a single series on network TV comes even close to touching it. And it's all because this is a show that is taking its damned sweet time to let everything play out. It's all about aftermath, about how people try to collect themselves and reassemble their lives in the wake of a tragedy.
The Killing also happens to be one of the best-shot and -edited series in recent years. The episodes, despite being filled with rich, emotionally complex material, just melt by in an amazing, holy-crap-it's-over-already kind of way. Plus, it just gets better and better as the week's go by. The first episode tested the waters with a few cop-on-the-last-week-on-the-job cliches, but those have all gone into the shadows, and now the only thing that stands out in each episode is how phenomenally well acted and written every single scene is. I haven't seen the ending, so for all I know the show could totally drop the ball, but until then, it's just so good that I can't even entertain the idea that it'll conclude any other way than beautifully.