For Your Consideration: 'The League'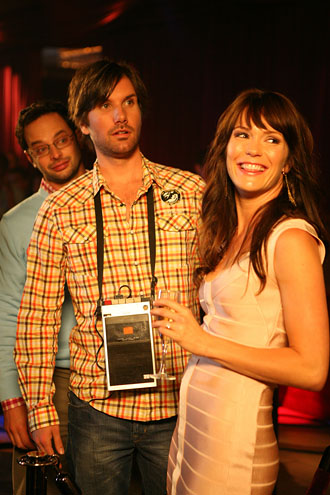 F/X makes a lot of (supposedly) good shows that I just don't watch: Rescue Me, Sons of Anarchy, The Shield, Terriers, Nip/Tuck and The League. There's just not enough time to catch up on all of them, but that's where Netflix comes in to let me scratch at least one of those off of the list.
As mentioned in my Sports Night FYC, I am not a sports guy. I don't follow sports, I don't watch sports and I know very little about sports players and references Yet for some reason, I dig sports TV shows. Sure, The League isn't strictly a sports show. It's not about actual athletes, it's about sports fans. Either way, it turns out that show that my DVR used to record a minute or two of every week after It's Always Sunny in Philadelphia is actually pretty damned hilarious.
Who Made It: The League was conceived by husband and wife team Jeff and Jackie Marcus Schaffer, who between them have produced Seinfeld, Curb Your Enthusiasm, EuroTrip and Disturbia.
Who's In It: Mark Duplass (The Puffy Chair, Greenberg), Nick Kroll (Dinner for Schmucks), Jonathan Lajoie, Stephen Rannazzisi (Big Day), Paul Scheer (Human Giant, Piranha 3D), Katie Aselton (The Puffy Chair, The Freebie).
What's It About: A bunch of assholes and their fantasy football league. And when I say assholes, I mean that in an endearing way. This is a show about a group of terrible people who do terrible, embarrassing things to each other all in the name of winning a pointless competition amongst themselves. Basically, think of it like Curb Your Enthusiasm where every character is some variant of Larry David and all they care about is football.
Why You Should Watch It: Are you a fan of Curb Your Enthusiasm? It's Always Sunny in Philadelphia? Just mash 'em together and you've got The League. That may sound like a complaint – that the show is just that simple, but it's not. Of course that's not to say that a show about five friends' misadventures with a fantasy football league is deep and complex – far from it – but it sticks to a tried and true formula of bitter, miserable people being bitter and miserable to each other and yet still being friends.
Everyone secretly thinks that their group of friends is as funny as the group on The League, that's just the way it goes. But no one in real life gets up to sitcom-styled misunderstandings and mayhem, it just doesn't happen. And that's why shows like The League and Curb are so great. They're the kind of sitcom world we wish we could live in. Not a bunch of friends getting together at a coffee shop every day, but a bunch of friends who escape their mundane lives by entering this bizarre fantasy world where they have no morals and are perfectly happy to throw their friends and family under the bus if it means comedy gold.
And in the case of The League, it's gold indeed. It's also remarkably vulgar for a basic cable television show. Not necessarily in language – even F/X has its limits – but in its topics and situations. There's nothing off limits on this show. Everyone is at the mercy of what these brilliantly decadent jerks will do to each other.