Fox Benches 'Breaking In': Is It Down or Out?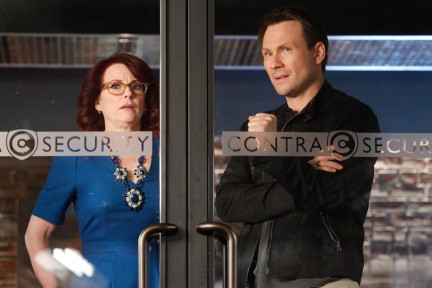 It's been a quite a roller coaster for the Fox sitcom Breaking In. Almost one year after it was canceled — only to be renewed a few months later — the show has been benched once again, this time for at least the remainder of the season.
Breaking In, which stars Megan Mullally and Christian Slater as a counterfeiter-turned-leader of a group of high-tech thieves, has been puttering along in the ratings, pulling in only 2.55 million viewers on its last outing. As a result, the series has been temporarily replaced by New Girl reruns, meaning every Fox Tuesday will now feature a full hour of Zooey Deschanel being simply adorkable starting at 9 PM (ET/PT). But don't get too excited about that: the second dose of New Girl is apparently just an encore of the first.
We've reached out to Fox for a comment regarding the future of Breaking In, whose remaining episodes "will air at a later date," according to the network.
More:
Glee, New Girl, Raising Hope Renewed Through 2013
Fox Pulls I Hate My Teenage Daughter
[EW]