Twist! M. Night Shyamalan Joins Fox's Upcoming Schedule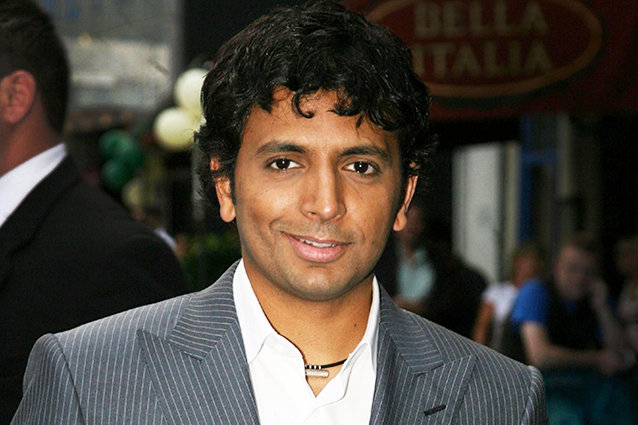 Who saw this one coming? Director M. Night Shyamalan will make the transition to television, officially joining Fox's 2013 fall programming lineup. On Monday morning the network announced that his event miniseries Wayward Pines, starring Matt Dillon, will debut in 2014. Will there be killer winds, secretly dead child therapists, aliens, or ladies in the water? Who knows! (Actually, we do know the 1o-part miniseries will be about Dillon as a Secret Service agent tracking down the mystery of two missing agents in a sleepy Idaho town). 
While we'll have to wait a little longer to find out, it's a pretty safe bet that Seth MacFarlane's first live-action comedy Dads, which is slated to debut in the fall of 2013, will have the Family Guy creator's signature brand of humor. Dads will air on Tuesday nights, joining Andy Samberg's newcomer Brooklyn Nine-Nine. 
Wayward Pines, Dads, and the previously announced Junior Masterchef, Sleepy Hollow and Almost Human (from none other than J.J. Abrams) are just some of the new programs joining the Fox family. There's also new dramas like Gang Related and Rake (starring Greg Kinnear) slated to begin mid-season, as well as new ensemble comedies such as Us & Them, Enlisted, Surviving Jack, and the animated Murder Police. 
Here's how the Fox 2013-2014 lineup will play out: 
Monday
8 PM – Bones (fall), Almost Human (late fall)
9 PM – Sleepy Hollow (fall), The Following (mid-season)
Tuesday
8 PM – Dads 
8:30PM – Brooklyn Nine-Nine 
9  PM – New Girl
9:30 PM – The Mindy Project
Wednesday
8 PM – The X Factor (fall), American Idol (mid-season)
Thursday
8 PM – The X Factor results show (fall), American Idol results show (mid-season)
9 PM – Glee (fall), Rake (mid-season)
Friday
8 PM – Junior Masterchef (fall)
9 PM – Sleepy Hollow  (fall)
Sunday
7 PM – NFL (fall)
8 PM – The Simpsons
8:30PM – Bob's Burgers
9 PM – Family Guy
Follow Aly on Twitter @AlySemigran
More: 
Fox 2013-2014 Comedies Include 'Brooklyn Nine-Nine', 'Enlisted', and More 
J.J. Abrams, Greg Kinnear, 'Sleepy Hollow' Head Fox's Fall Dramas
10 Characters That Must Return for '24' 
---
From Our Partners:


Watch Justin Bieber Attacked in Dubai (Celebuzz)


33 Child Stars: Where Are They Now? (Celebuzz)