Fox Picks Up Fifth Gordon Ramsay Series, 'Junior MasterChef'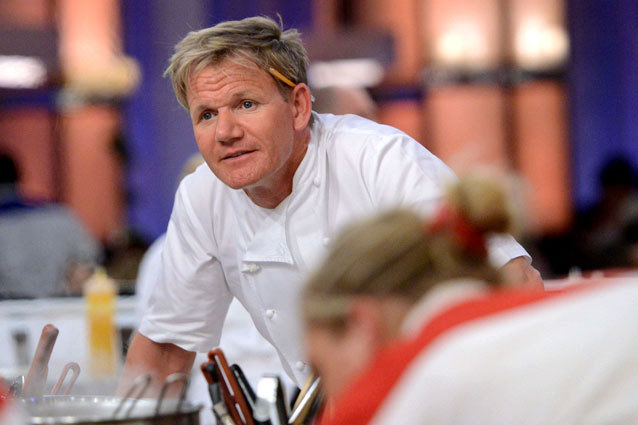 Giving a child a knife sounds like the world's worst idea, but Fox figured out a way in which it's actually a great one. The network just inked a new deal with Gordon Ramsay to launch his fifth series next season, Junior MasterChef,  EW reports.
Junior MasterChef is a spin on the summer cooking competition featuring young culinary enthusiasts. While giving kids age 8 – 13 free reign in the kitchen might sound like a disaster, we were on set with the Top 12 contestants and they know what they're doing. In fact, we had never even heard of some of the ingredients they were using in their wildly complicated, mouth-watering dishes! Junior MasterChef will use the MasterChef judging panel of Ramsay, Joe Bastianich and Graham Elliot.
"We have such great teams and partners on these shows, and I'm really excited we're able to offer this new opportunity to young budding chefs across the country with Junior MasterChef," Ramsay says. "Having my own children who love to cook, I know firsthand the skill and passion these kids can have at such a young age, and what they can do with it. It's just extraordinary to watch them in action."
Ramsay and Fox signed a multi-year deal that, among the Junior MasterChef pickup, also renewed parent series MasterChef for an additional two seasons. Hell's Kitchen, currently in its 11th season, has also been renewed for a 13th. These three series join Ramsay's previously renewed Kitchen Nightmares and Hotel Hell on Fox's schedule.
"Gordon brings an incredible level of energy and passion to each of his series that our viewers absolutely love, so we are thrilled that he will continue building his brand here on Fox," said network president of alternative entertainment Mike Darnell. "He's a global superstar, and the success and longevity of his unprecedented five series on our network proves that America just can't get enough of Gordon."
Follow Sydney on Twitter: @SydneyBucksbaum
More:
'24' May Return – Without Kiefer Sutherland?
Fox 2013-2014 Comedies Include Andy Samberg's 'Brooklyn Nine-Nine'
Fox Pilot Orders: 'Sleepy Hollow,' J.J. Abrams' 'Almost Human'
---
From Our Partners:


Watch Justin Bieber Attacked in Dubai (Celebuzz)


33 Child Stars: Where Are They Now? (Celebuzz)