Fox Pulls 'I Hate My Teenage Daughter'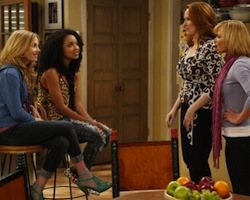 Hate is a strong word, but Fox executives don't appear to be in love with the sitcom I Hate My Teenage Daughter. After its lowest-rated episode ever, the network announced today that it's removing the show from its Tuesday night lineup immediately and airing reruns of Raising Hope in its place.
The critically-panned show was already slated to go off the air after its April 3 airing, but Fox pulling the show early isn't a good sign. The next two episodes will air sometime over the summer, but don't count on seeing a second season.