Fox's 'Total F Up' Pushes 'X Factor' To Tuesday, Angers Simon Cowell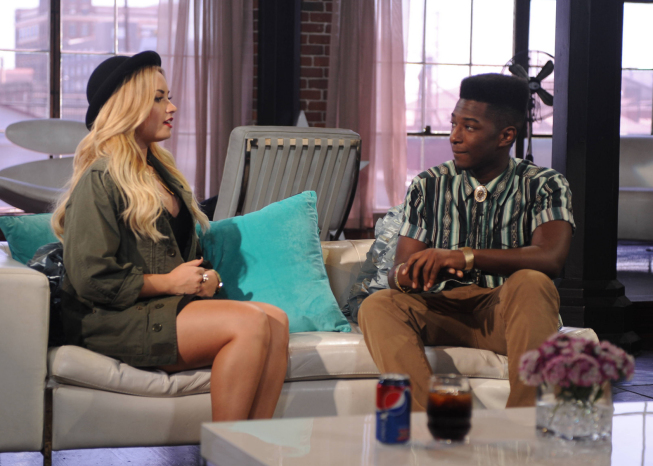 Watch out, Fox — Hell hath no fury like a Simon Cowell scorned. Tonight, yours truly was shocked when, at 5:40 p.m. PST, Fox began airing the latest episode of The X Factor, which was not supposed to air until its usual time, 8 p.m. I watched for about an hour or so, until, suddenly, contestant Jillian Jensen was replaced with a repeat of The Mindy Project. Say what? Well, Simon Cowell was confused, too:
Have no idea what is happening to the schedule tonight. Have heard the whole episode will be shown next Tuesday. Sorry.
— Simon Cowell (@SimonCowell) October 18, 2012
As it turns out, Fox was attempting to air X Factor tonight as scheduled on the East Coast, despite a baseball rain delay that ran into primetime, Deadline reports. About an hour later, Fox received word that the National League Championship game would go on, so they switched over to The Mindy Project repeat in anticipation. Again — say what? The fact that I was able to watch it on the West Coast was a technical blunder of major league proportions, though Cowell, of course, summed it up best:
It what's known as a total f up.
— Simon Cowell (@SimonCowell) October 18, 2012Exactly. The regularly scheduled West Coast broadcast of X Factor was pre-empted, with a repeat airing instead. Now we'll have to wait until next Tuesday to find out who else will go through to the live auditions, and Cowell and co. will have to face off against their NBC rival, The Voice, for the second time this season. To make matters worse, Fox's 9-10 p.m. comedies, New Girl and The Mindy Project, will now be delayed another week. Insert miserable Zooey Deschanel face here.
Follow Shaunna on Twitter @HWShaunna
[PHOTO CREDIT: FOX]
MORE:
'X Factor': Khloe Kardashian Odom, Mario Lopez Announced as Hosts
'The X Factor' Recap: A Very Special Episode
'The X Factor' Recap: Miss Independent
From Our Partners:

'Twilight' Star Kristen Stewart Drops 2.2M on L.A. Home Near Robert Pattinson — PHOTOS
(Celebuzz)

Rihanna to Earn $8 Million for Turning on Christmas Lights: 14 Celebrity Appearance Fees Revealed
(Celebuzz)