Fox Upfronts: Zooey Deschanel, J.J Abrams and More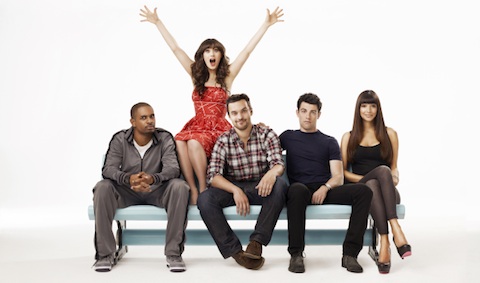 Here we have Fox's latest offerings for the 2011/2012 season. Yesterday afternoon they presented these trailers of all their new series including the sitcom from No Strings Attached screenwriter Liz Meriwether and the highly anticipated J.J. Abrams project, Alcatraz. We've got all the new material here and we'll give you the details, a little opinion and some video for you to take a look for yourself.
New Girl
Starring: Zooey Deschanel, Jake Johnson
Basics: Jess is an adorable, goofy girl going through a breakup and living with three young dudes. Clearly, things are going to get a little crazy and probably a little cute.
Potential: Pretty Good
Why: Zooey Deschanel is adorable, Jake Johnson was an enjoyable part of creator Liz Meriwether's rom-com hit, No Strings Attached, and her biting, goofy humor is refreshing. Here's hoping the charm lasts past the first episode.
I Hate My Teenage Daughter
Starring: Jamie Pressley, Kate Finneran
Basics: Two single moms struggle to raise their bratty, over-privileged, misbehaved teenage daughters.
Potential: Ugly
Why: To be blunt, this almost looks like a fake sitcom they'd put in a movie to demonstrate how ridiculous TV sitcoms can be. Jamie Pressley is likable and I want to enjoy her on this show, but it's simply taking an awful phenomenon — the friend-mom — which breeds awful behavior and making obtuse jokes about it. Let's hope for Pressley's sake that this trailer is no indication of the actual show, because if it is, she should start looking for a new job.
Alcatraz
Starring: Sarah Jones, Jorge Garcia, Sam Neill
Basics: Detective Rebecca Madsen is assigned to a grisly homicide case and finds the clues connecting her to former Alcatraz inmates all of whom disappeared when they were meant to be relocated almost 100 years ago, but of course being that this is a show from J.J. Abrams, that's really only the tip of the iceberg and the mystery will just get more and more complicated from there.
Potential: Good
Why:It's a J.J. Abrams mystery show that centers on one of the most notorious and mystified prisons in the world. As long as the writing and the mystery stay strong, I see no reason this show won't catch on. We're pretty psyched.
Napoleon Dynamite
Starring: Jon Heder, Efren Ramirez, Tina Majorino
Basics: It's a cartoon replica of the film complete with the original cast as voice actors. Barf.
Potential: Ugly
Why: There's a reason we all stopped making Napoleon Dynamite jokes five years ago: it got old. I honestly have no idea why anyone at Fox thought this was a good idea. I give it one episode. Then again, American Dad is the black sheep of the Seth MacFarlane shows and that does just fine. 
Terra Nova
Starring: Jason O'Mara, Stephen Lang
Basics: A family journeys back to Prehistoric times as part of a mission to save the human race.
Potential: Pretty Good
Why: This show has some serious potential, especially with a producer like Steven Spielberg behind it (who's got his hand in a lot of television these days), but my only worry is that after creating so much hype after several delays, it won't live up to the anticipation. For now, this trailer looks pretty epic, we'll just have to wait and see how the adventure unfolds.
Allen Gregory
Starring: Jonah Hill, French Stewart, Will Forte
Basics: An over-privileged, over-educated, stuck up 7 year-old starts public school for the first time. Of course, he has a hard time fitting in.
Potential: Alright
Why: For one thing, the show has a big name behind it (Hill) and Fox seems to do well with animated series; however, Allen Gregory is incredibly unlikable from what this trailer shows. The show will have to find its endearing side if they want audiences to latch onto this character, or flesh out the other screwed up folks the way Family Guy does. We'll give it some time.
The Finder
Starring: Geoff Stults, Michael Clarke Duncan
Basics: This Bones spinoff gets a setup from the stars of the show that inspired it and finds an Iraq war vet (Stults) who, after an explosion, wakes up from a coma with a heightened ability to locate missing people and things; hence the name, The Finder.
Potential: Pretty good
Why: This show isn't really my bag, but it feels extremely similar to Bones with a tad of extra sex appeal. I think fans will have no trouble adding this show to their weekly repertoire.