Frank Darabont's 'L.A. Noir' Gets Series Order: 5 Reasons We're Excited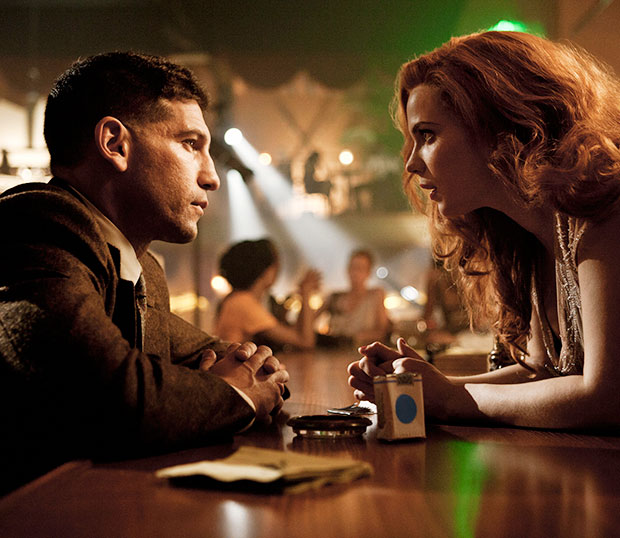 Fans of auteur television, rejoice! TNT has just announced a six-episode series order for exec producer Frank Darabont's still untitled period crime drama based on John Buntin's book L.A. Noir: The Struggle for the Soul of America's Most Seductive City. Set in the 1940s and '50s, L.A. Noir will document the power struggle between Los Angeles police chief William Parker (Desperate Housewives' Neal McDonough) and ex-prizefighter turned mobster Mickey Cohen (who hasn't yet been cast). Think Boardwalk Empire meets Chinatown. If the promise of more fedoras and pinstripe suits on TV isn't exciting enough, here are five other reasons we can't wait to see it:
L.A. Noir marks Darabont's return to the small screen after his high-profile exit from The Walking Dead.
Fans of AMC's blood-soaked zombie extravaganza usually agree about one thing: The Walking Dead lost much of its propulsive storytelling after showrunner Darabont left early in the production of season two following creative disputes. (Marooning scrappy zombie apocalypse survivors on a sleepy farm for over ten episodes can do that.) This is Darabont's chance to make another big splash in the TV game, and by all accounts he's already bringing his exacting vision to bear on L.A. Noir. TNT's series order comes ten months after the first announcement of the project, as it took Darabont, who also wrote and directed the pilot, several months to lock in a final cut he found satisfactory.
Darabont's bringing several Walking Dead pals with him.
Jon Bernthal, who played mentally unstable former sheriff's deputy Shane on Walking Dead, is gaining more fictitious law enforcement experience as ex-marine turned LAPD cop Joe Teague on L.A. Noir. Better yet, he won't have to affect a southern-fried Georgia accent. Bernthal will be joined by Jeffrey DeMunn , Walking Dead's preachy, eventually disemboweled conscience Dale, as Det. Hal Morrison, who heads up the LAPD's new mob squad. Given Darabont's knack for screw-tightening suspense among large personalities (see: The Shawshank Redemption), Bernthal and DeMunn's new alter egos may butt heads once again.
Anything that puts more of Ron Rifkin in the world is a good thing.
Alias' erstwhile Arvin Sloane will be playing L.A. mayor Fletcher Bowron. A hardnosed enemy of the mob, Bowron vows to clean up the city and the rampant corruption within his own police force.
This is the closest thing to an L.A. Confidential TV series we're likely to get.
Fans of James Ellroy's Hollywood-set crime novel and the 1997 Curtis Hanson movie will note that a pilot for an aborted L.A. Confidential TV series was shot in 2003 with a cast that included Kiefer Sutherland, Josh Hopkins, Melissa George, and Eric Roberts. Yes, that happened. But with Darabont's exacting attention to period detail and knack for creating lived-in atmosphere, L.A. Noir could satisfy L.A. Confidential fans' yen for the seedier side of Tinseltown.
L.A. Noir has absolutely nothing to do with the videogame L.A. Noire
Rockstar Games' chiaroscuro masterpiece is perfect as it is.
More:
The Walking Dead Creator Frank Darabont to Develop LA Noir