'Friday Night Lights' Creator Slams Mitt Romney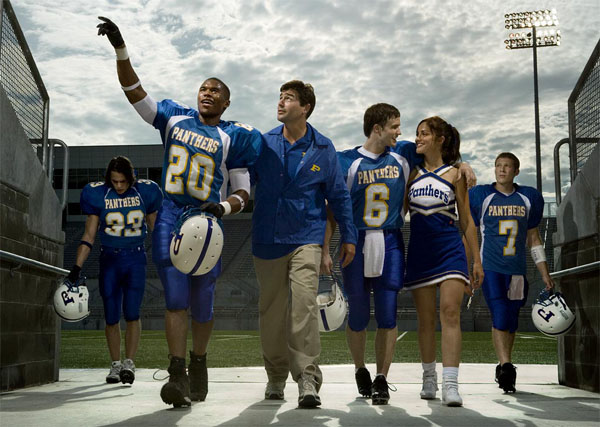 Even though politics can be funny from time-to-time, there is nothing funny about plagiarism. (End Joe Biden laugh!) And that is exactly what Friday Night Lights creator Peter Berg is accusing presidential hopeful Mitt Romney of.
The writer-director of the sports drama issued a letter calling out the Republican for his use of an expression he created for the now canceled series. The phrase "Clear Eyes, Full Hearts, Can't Lose" – which was made famous in the television show — has been used many times in Romney's campaign speeches and throughout his Facebook page.
According to The Hollywood Reporter Berg writes to Romney — who has admitted his family is a fan of the show: "Your use of the expression falsely and inappropriately associates Friday Night Lights with the Romney/Ryan campaign."
Unfortunately the author of the book that spawned the show does not agree, calling the letter "uninformed and offensive." In a statement to The Hollywood Reporter Buzz Bissinger said about his cousin (yep, you read that right), "I love Pete but he is being childish and petulant." He also took aim at his family member for taking credit for FNL. "I am frankly sick and tired of Berg and everyone else acting as if he was the creator of Friday Night Lights. Without the book there never would have been a television show. He should feel lucky that anyone cares about it."
Berg does say in the letter that he is grateful to Romney for one thing: "We are grateful for your support of our beloved show, but we are not in any way affiliated with you or your campaign. The show's (uh, er, um) creator — who in the letter compares the GOP candidate with a character on the show "who turned his back on American car manufacturers selling imported cars from Japan" — ends the letter (and hopefully the nasty back-and-forth) by saying, "Please come up with your own campaign slogan."
More:
Joe Biden vs Paul Ryan: Funniest Tweets About the Vice President Face-Off