The Bings Were Back In Town: 'Friends' Co-stars Courteney Cox and Matthew Perry Reunited on 'Go On'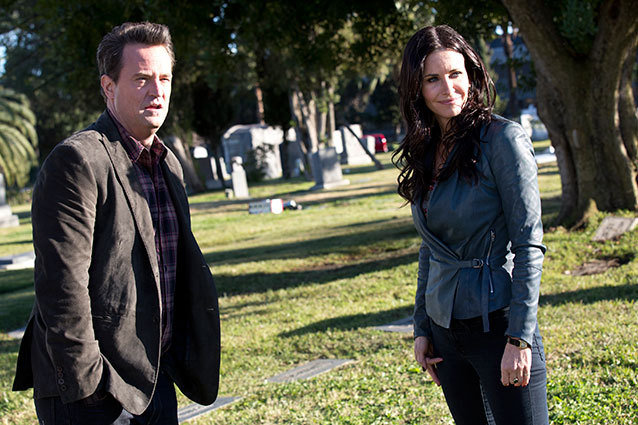 Ross and Rachel were always stealing Chandler and Monica's thunder on Friends. They always had the more interesting story lines (married in Vegas totally trumped that terrible adoption plot), the more talked-about haircuts, and they're the couple people most associate with the show. But really, Chandler and Monica were the best Friends pairing on the series. (Let's all just pretend like Joey and Rachel never happened, shall we?) 
RELATED: We Rank the 'Friends' Thanksgiving' Episodes 
Yes, Ross and Rachel had that kiss and that will-they-won't-they back and forth, but the couple lost their spark and our interest as the series went on. Chandler and Monica's unexpected hookup in London (baby!) was not only the hottest hookup on Friends, but those two balanced each other out so nicely. Chandler needed someone to help him get a little serious, and Monica needed someone to calm her down — they made sense. Ross and Rachel, on the other hand, just drove each other crazy. 
Matthew Perry and Courteney Cox had their long overdue reunion on his NBC show Go On  last night, and while the other Friends have had their fair share of reunions (like when Jennifer Aniston appeared on Cougar Town) we haven't seen the Bings together in nearly a decade. Their chemistry was still there, but if you were expecting to see Monica and Chandler, you were likely sorely disappointed. 
RELATED: 'Cougar Town' Renewed for a Fifth Season
While Perry's Ryan King is quick-witted, he's no sarcasm king like Chandler Bing (oh, hey, it rhymes) and Cox's character on Go On was a crazed, fast-driving widower who tried to hook up with a male and a female at the same time. I mean, Monica didn't even want to have sex on the balcony! If anything, Perry and Cox swapped roles (he being the more anxious one, she the more adventurous) and, in turn, it didn't have quite the same magic as Chandler and Monica. 
That's always the worst part of these non-reunion reunions, really. While it's always nice to see old friends (in this case, Friends), it never meets the expectations of how we want to see them now. I want to see Monica and Chandler living upstate with their kids (and Joey), not hitting on each other at cemeteries and going their separate ways. But, hey, they're still better than Ross and Rachel in my book.
You can watch the entire episode of Go On here and see if you feel the same way about it: 
[Photo credit: Justin Lubin/NBC]

---
You Might Also Like:


Topanga's Revealing Lingerie Shoot: Hello '90s!


13 Most WTF Fan Tributes