'Fringe' Series Finale: New Promos Are Awesome-Slash-Terrifying — VIDEO
Holy frak, Fringe! Apparently, killing off beloved characters and introducing us to a dystopian nightmare wasn't enough for you. No, you had to go ahead and release the creepiest promotional poster we've ever seen for a network television program: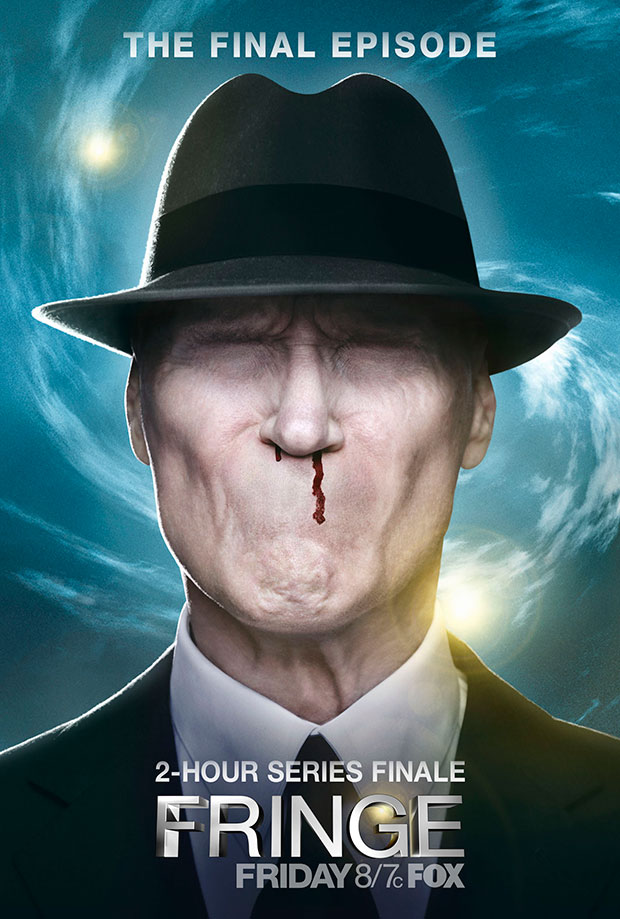 Horrifying! Of course, long-term Fringies will recognize the affliction torturing this Observer — the gas that causes all orifices to close, ultimately leading to suffocation, has been used twice before. But since we're (tear) days away from the 2-hour series finale, the poster suggests an epic Observer v. Fringe team showdown that might just include some recipes from Walter's lab (probably not LSD, though seeing Windmark on acid would be a trip, indeed).
Now, it's time for the really SPOILER-y stuff: Fringe released a 30-second promo for Friday's event, after last week's revelation that Walter (John Noble) would have to die for the plan (whatever that is) to succeed. Rough! But we love this video, since it spoils the return of alternate universe characters Fauxlivia (Anna Torv) and her (fingers crossed) beau, Lincoln Lee (Seth Gable):
Follow Shaunna on Twitter @HWShaunna
[PHOTO CREDIT: Fox]
MORE:
'Fringe' Recap: The Boy Must Live
'Fringe' Recap: An Origin Story
'Fringe' Star Georgina Haig on Her Character's Shocking [Spoiler!]

Megan Fox's 12 Hottest Moments (Moviefone)