'Fringe' Star Georgina Haig on Her Character's Shocking [Spoiler!]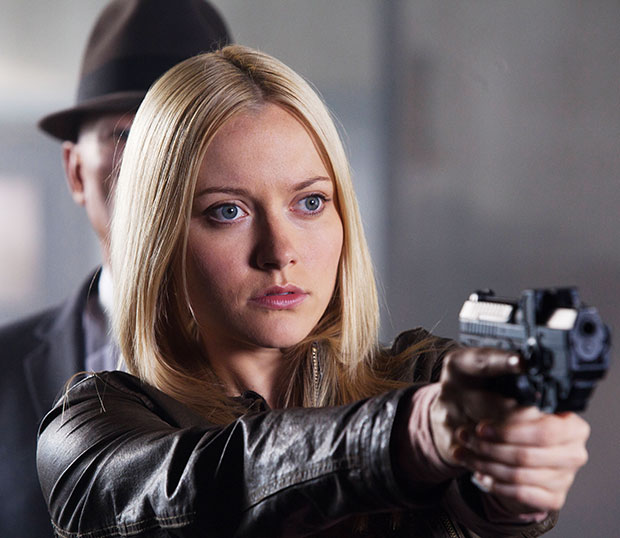 Just when you thought Fringe couldn't possibly get any darker, they go ahead and air tonight's shocker, "The Bullet That Saved the World." When Hollywood.com visited the Fringe set in Vancouver last month, Joshua Jackson told us that this season's fourth episode would be a major game-changer — but even we never thought that the Fringe folks would go this far. We called up Georgina Haig (Etta) to get her thoughts on tonight's tragic ending, and it goes without saying that there are MAJOR SPOILERS AHEAD!
In a terrible twist of fate, tonight's episode ended with Peter and Olivia's (Anna Torv) newly-found daughter, Etta, being shot by an Observer, then blowing herself to smithereens to eliminate any remaining bald guys in the area. To say it was unexpected would be a massive understatement. "I don't know how people are going to react!" Haig said with a laugh. "All I know is that it's incredibly interesting now, watching the parents have to deal with [Etta's death] on top of saving the world, again. Having to find the strength to somehow move through it. They've made the stakes as big as they possibly can, and they've dug the emotional well the deepest it could possibly be. It's a very harsh thing to do, but a brave thing to do, in terms of storytelling."
How Peter, Olivia, and Walter (John Noble) will react to Etta's demise is almost impossible to predict, but Haig did tell us that the rest of the resistance would start using her likeness as a symbol of the rebellion, à la The Mockingjay in The Hunger Games. "She becomes this symbol of hope," she said. "I know they made a poster. They end up using her as a symbol of the resistance."
Hmm. Something tells us posters bearing their dead daughter's face might be an unwelcome promotional material for the Bishop family, but Haig did mention that she thinks the manner of her death was oddly poetic. "I spoke to [Producer] Joel [Wyman] once I knew I was coming back," she said. "I didn't know what was going to happen. Then he told me, and I was just like, 'Oh God! Haven't they been through enough?' But I thought it was a great death…. At first [Etta] is looking to her parents as this symbol of hope, then she briefly becomes that through her own actions. I think it's bittersweet that she becomes the savior that she looks for in her parents — she ends up having to rise to the occasion, and make the sacrifice. It's an amazing way to go, sacrificing yourself and blowing yourself up into a million pieces."
Still, all bravery and poetry aside, Haig did say that she didn't enjoy leaving the Fringe team. "You get close to people so quickly, because it's such an intense work environment," she explained. "14 hours a day, eating all your meals together… it's not a usual work environment. You bond with people. The four episodes felt like a long time, and I was really sad to leave. I didn't have to act much in the dying scene, because I was really sad to be dying! Like, 'Screw you, Joel! Whatever.'"
Screw you Joel, indeed! Etta will be missed, but, as Haig mentioned, the show's crew did offer some hope: "I was pretty upset," she said. "All the crew [members] were like, 'Ugh, whatever. It's Fringe, you'll probably be back. People die and come back all the time.'" Fingers crossed!
What did you think of Etta's death? How will Peter, Olivia, and Walter move forward? Sound off in the comments!
Follow Shaunna on Twitter @HWShaunna
[PHOTO CREDIT: Fox]
MORE:
'Fringe' Premiere Recap: The Future is Dark, and Really Crappy
'Fringe': What You Need to Know Before the Final Season
New 'Fringe' Promo: The Observers Torture Walter — VIDEO
From Our Partners:

Jon Hamm Goes Shirtless With Bikini-Clad Jessica Paré
(Celebuzz)

Kardashians Share Scary-Cute Childhood Halloween Pics
(Celebuzz)