Fun with Ratings: No Mystery Behind 'Elementary' Popularity or 'Big Bang' Victory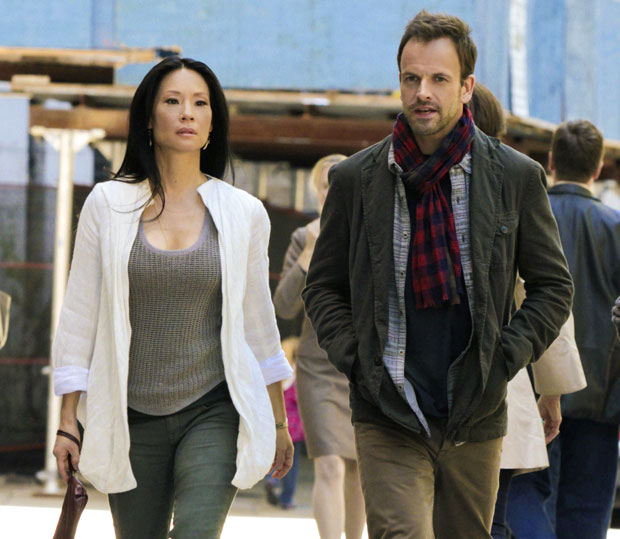 Would you like a recipe for success? Put a clever crime procedural on CBS. That's not even like shooting fish in a barrel, that is like walking up to a barrel of fish that have already been shot. And that is why Elementary was the top show last night. ABC's complicated sub drama Last Resort was the only other premiere and fared well, but it wasn't like putting an update of Sherlock Holmes on CBS with the former Mr. Angelina Jolie and Lucy Liu. That's just too easy.
To celebrate Elementary solving the case, we're going to make the TV ratings a little bit easier for everyone to understand by comparing each network's performance to varying iterations of the Sherlock Holmes character. The game is afoot below.
Sherlock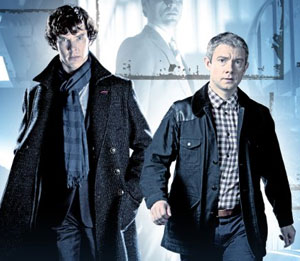 Benedict Cumberbatch has found quite a bit of success with this British version of the famous detective which updates his cases to the modern day. Hm, which new show does that sound like? Probably one that got 13.3 million viewers last night on CBS and is called Elementary. But CBS had a huge night otherwise. Big Bang Theory had its biggest, bangiest premiere ever with 15.3 million viewers and was the night's biggest, bangiest show. Those heavily-hyped cable reruns sure aren't slowing this thing down. Two and a Half Men didn't do as well as last year when Ashton Kutcher came onto the show, but still scored 12.4 million. Person of Interest improved on its soft opening last season with 14.3 million. Cheers all around for CBS.
Sir Arthur Conan Doyle
No one really wants to read a book, but when you want something old and dependable, you always have the original Sherlock mysteries to count on. Speaking of old and dependable, Grey's Anatomy had a bigger premiere than last year with 11.5 million viewers. Last Resort a show about submarines, nuclear bombs, and conspiracy theories had 9.1 million curious people, a vast improvement on last season's Charlie's Angels, but one grandmother in Des Moines tuning in would have been an improvement on that show's performance. The show also did better in the second half hour, ruining all the "dive! dive!" headlines hackey ratings writers already had planned (myself included). Oh, and Scandal had 7 million viewers. Kerry Washington deserves better.
The Great Mouse Detective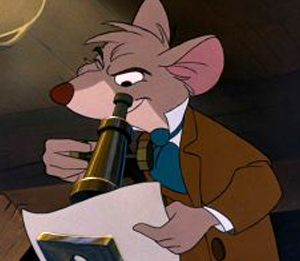 This Disney adaptation was not as popular as you would imagine, but a hit with the kids. The same was true of Fox's performance last night where The X Factor and Glee had 9.2 million and 5.9 million viewers respectively, but lots of the young viewers that advertisers crave like Britney Spears craves a napkin to wipe her Cheeto-stained fingers. They were both down a bit this week, so we'll have to see where they level off.
Young Sherlock Holmes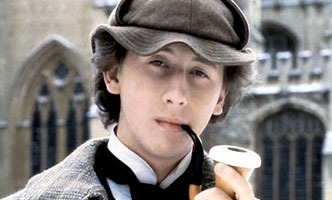 You probably don't remember this '80s cult hit, and most people probably haven't even watched it. Guess we can say the same thing for NBC's critically loved Thursday night comedies. ZING! In their second week SNL Weekend Update Thursday had 5.4 million, Up All Night had 4.5 million, The Office had 5.2 million, Parks and Recreation had 4.5 million and the capper of the night Brian Williams' Rock Center had a mere 4.1 million. Even more people have seen Young Sherlock Holmes.
Follow Brian Moylan on Twitter @BrianJMoylan
[Photo Credit: CBS, PBS, Walt Disney, Paramount Pictures]
More:
Fun with Ratings: 'The Neighbors' Wins Its Alien Invasion for ABC
Fun with Ratings: 'Vegas' Gamble Pays Off For CBS, No Luck For 'Mindy' or 'Ben & Kate'