Fun with Ratings: 'The Neighbors' Wins Its Alien Invasion for ABC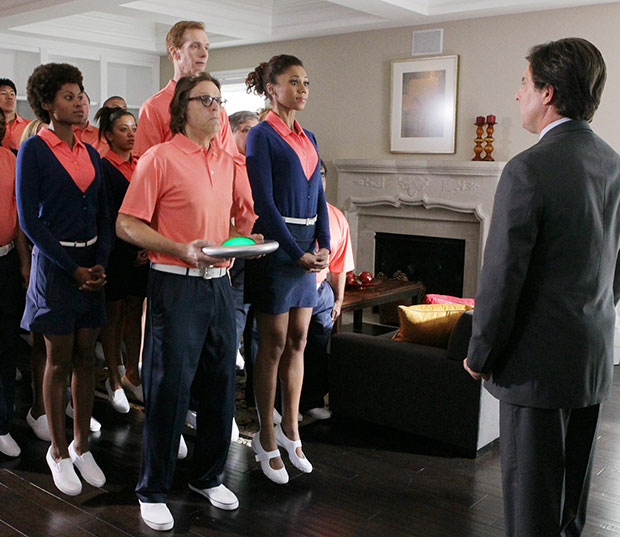 There are some things that ABC's new aliens-next-door sitcom The Neighbors is: clever, interesting, and, after last night, well-rated. There is one thing it is not, however: funny. I didn't guffaw once during the pilot, but that didn't keep 9.3 million people from watching it last night, making it the big premiere victory of the night.
To make the television ratings a little bit easier to understand and to celebrate The Neighbors' stunning takeover of the human race, we're going to liken each broadcast network to a television alien. Consider yourself taken to our leader.
Alf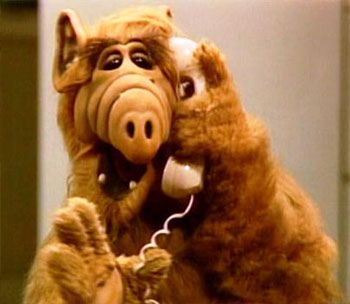 You can think that there are better aliens in television history and you would be wrong. Just like you can argue that there are more popular shows on Wednesday night than Fox's The X Factor and you would also be wrong. With only 9.4 million viewers, The X Factor didn't do as well as other shows overall, but it still managed to win the night in viewers in the 18-to-49 demographic, which advertisers like as much as Alf likes cats.
Mork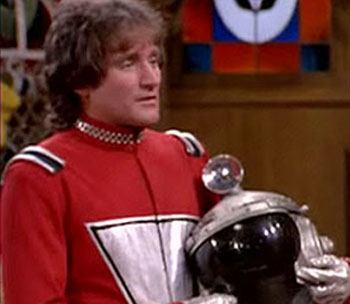 Mork may not have won over the whole world, but he certainly impressed Mindy and that's all this Robin Williams visitor from beyond was concerned with. Same thing goes for ABC, which came in second in the young demographic thanks to a good base built by a special hour-long installment of The Middle which had 9 million viewers and lead into the night's (and the Emmy's) winner Modern Family which had 14.2 million, only slightly down from last year's premiere. The Neighbors rode in its wake with 9.3 million, but we'll see how many of those Modern Family viewers stick around again next week. The network ended the night with a throwaway recap show of Revenge in its old time slot that only scored 5.4 million viewers. No one was fooled into thinking this was the premiere, ABC. We all know we have to wait until Sunday for that.
The Great Gazoo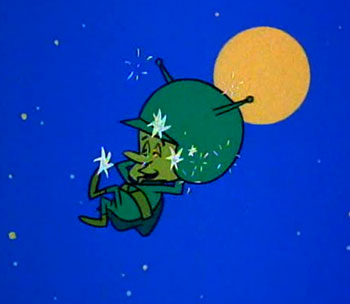 None of the kids know who he is, but he's really damn popular. Same goes for CBS, which had the most viewers last night, but they were all as old as a Flinstones episode. Survivor performed well against X Factor, beating it in total viewers and in ratings for its first half hour and averaged 10.2 million viewers. Criminal Minds kicked it up with 11.6 million and CSI leveled off at 10.7 million (were all the fogeys in bed by then?) but both of these were down 20 percent from their debuts last year.
The Lizards from V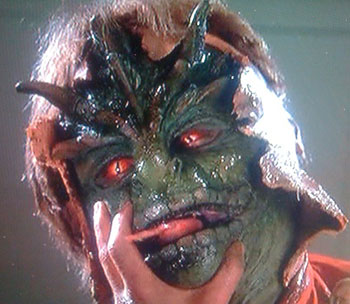 At first we saw the "visitors" and they looked like people and everyone was kind of cool with them, but then when we found out what they were all about, they were green and horrible and everyone wanted to kill them. Well, NBC rolled out Animal Practice and Men with Kids during the Olympics and people were like, "OK," but now when it comes time to debut in their real time slots they're basically oozing green sludge. Only 5.2 million watched Animal Practice (down considerably from Up All Night last year, which is now retooled on Thursdays) and only 4.8 million watched Guys with Kids. The one bright spot was the hundred millionth season premiere of Law and Order: Last Man Standing whose two hour debut arrested (get it?!) 7.1 million people, its best numbers since last November. NBC was having such a good premiere week, and now this.
Follow Brian Moylan on Twitter @BrianJMoylan
[Photo Credit: ABC (4); NBC]
More:
Fun with Ratings: 'Vegas' Gamble Pays Off For CBS, No Luck For 'Mindy' or 'Ben & Kate'
Fun with Ratings: NBC Still Wins, Even with Competition