The Funniest Emmys Moments of All Time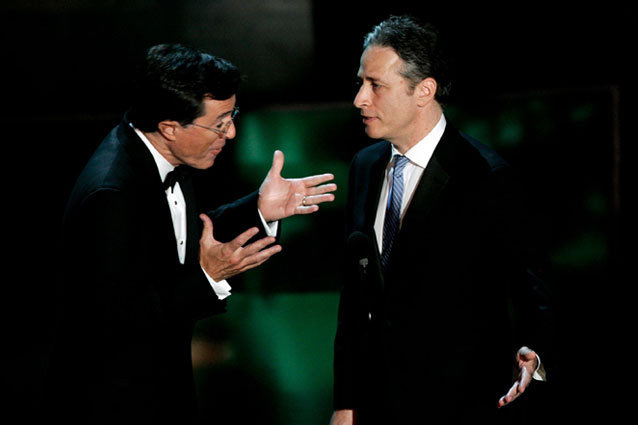 ince Bucci/Getty Images
Not as serious as the Oscars but not as alcohol-friendly as the Golden Globes, the Emmys have a history of hilarious moments. Over the years, both hosts and presenters have created moments memorable enough to make suffering through an overly-long telecast or enduring yet another Jon-Cryer-Best-Supporting-Actor win worth it. We've gathered up the funniest Emmys moments of all time to keep you laughing ahead of the 65th Primetime Emmys on Sunday. Here's hoping 2013 will provide us with plenty more funny moments to add to this list.
Stephen Colbert Is Upset With The Emmys
When Jon Stewart and Stephen Colbert took to the stage to present an award in 2006, Colbert seemed rather hostile towards the whole thing. His anger grew as the bit went on and Stewart attempted to reason with his friend while being forced to read the cheesy lines on the autocue. Finally, the whole thing comes to a head when Colbert gives the magnificent reason behind his frustration.
Groban Sings TV Themes
Josh Groban has made a career from singing pop songs in a classical style, and at the 2008 Emmys, he put his big voice to great use when he sang a medley of classic television theme songs. It turns out that Groban's also pretty good at impressions — his take on the South Park theme is a particular highlight — and with a cameo from Animal from the Muppets and a gospel choir, Groban takes a throwaway bit and makes it memorable. Plus, his slow motion run to the Baywatch theme is the perfect touch.
Lucille Ball Forgets Her Glasses
The original Queen of Comedy brought some slapstick to the 1975 Emmys when, while announcing the winner for Outstanding Supporting Actress in a Comedy, she realized that she had forgotten her glasses and couldn't read the card.  Although Milton Berle rushed to her assistance with both a wine glass and an actual pair of glasses, Ball had already mixed up the envelopes. Only Ball could make a minor mixup as funny as her character's iconic stint at a chocolate factory.
Jimmys Fallon and Kimmel Wrestle
Late Night Competitors Jimmy Fallon and Jimmy Kimmel may have seemed amicable when they walked out to present an award at the Emmys, but it all quickly went south when Kimmel demanded to see the acceptance speech Fallon was trying to hide. It's a testament to the pair's inherent goofiness that the bit not only works, but with the added touch of Fallon awkwardly acting out the speech behind Kimmel, becomes something memorable.
The Office Gets New Co-Workers
In 2011 the cast of The Office poked fun at Steve Carell's departure by having characters from from popular shows take part in an interview about the things they dislike about their jobs. With guest appearances by a very nervous Jesse Pinkman and Kim Kardashian — who, of course, is unfamiliar with the term "work" — the sketch shows that workplace annoyances are universal. However, the funniest moment comes courtesy of Leslie David Baker, whose deadpan delivery is a hilarious counterpoint to Aziz Ansari's enthusiasm.
Jimmy Fallon Memorializes Shows That Ended
For his hosting gig in 2010, Fallon took inspiration from his experience the MTV VMAs eight years prior and decided to do a musical medley for a fun spin on the classic Emmys "In Memoriam" segment. Dressing up as Elton John, Boyz II Men, and Billie Joe Armstrong, Fallon eulogized 24, Law and Order, and Lost, respectively. With lyrics wondering why Jack Bauer never went to the bathroom and a magical five-part harmony Fallon used his manic energy and trademark impressions to add some much needed silliness to the proceedings.
Bob Newhart is Trapped in a Glass Case of Emotion
Certain things in life are unavoidable — taxes, death, award shows running over time. In 2006, host Conan O'Brien showed the audience the ingenious way that the Emmys planned to avoid such a fate — beloved television star Bob Newhart was sealed in a glass container along with exactly three hours worth of air. He then threatened the nominees that if the ceremony went over the allotted time, Newhart would die. Newhart plays his growing panic perfectly, and the whole thing becomes even more memorable in light of his recent Emmy win — Newhart's first.
Ricky Gervais Wants His Award
Before Ricky Gervais offended all of Hollywood by hosting the Golden Globes several times, he won an Emmy for playing David Brent on the original British version of The Office. Unfortunately, he wasn't there to accept his award, so Steve Carell did it for him. One year later, Gervais actually was at the Emmys and he was going to accept his award by any means necessary. Although this bit is fantastic because of Carell's incredible poker face, the real beauty of it is realizing that this is essentially the moment that won Gervais his Globes hosting gig.
Amy Poehler Doesn't Speak Spanish (or Italian, or Martian)
Whenever these two funny ladies get together, it's amazing to watch — just look at their Golden Globes hosting job — and although Poehler gets a lot of attention for her nominee skits, it's when she's making up languages with complete abandon that she really shines. With Fey playing the straight man, Poehler takes a bit that would have been clunky and eye-roll inducing from anyone else and makes it a standout moment.
More: 10 Best Emmys Reaction Shots
15 Best and Worst Emmy Dresses
10 Most Shocking Emmy Wins
---
From Our Partners
From Our Partners:

A Complete History Of Twerking (1993-2013) (Vh1)

20 Grisliest TV Deaths of 2012-2013 (Vulture)