FX Clears The Haze: 'Wilfred' Renewed For Season 3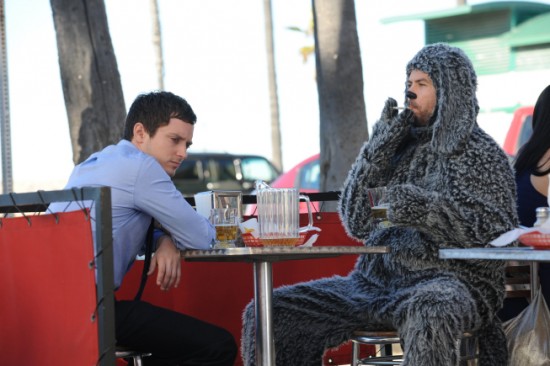 If you're a fan of dogs, weed, or drinking in the middle of the day, then get excited (or just really, really baked) because we've got good news! Wilfred, one of the most original shows on TV, has been renewed for a third season. FX announced today that the dark comedy — starring Elijah Wood and Jason Gann — will begin production on 13 new episodes next spring, and is set to debut its upcoming season in June of 2013. Just in time for the lazy hazy days of summer.
Additionally FX has named writer/producers Reed Agnew and Eli Jorné, to be the new co-showrunners, replacing former Wilfred boss David Zuckerman. Not to worry Wilfred-lovers —Zuckerman will be remain on the show as Executive Producer, so rest assured our beloved show won't lose any of it's original comedic wit or quirkiness.
"As John (Landgraf) said at the summer TCA, it was only a matter of time before we picked up the show, we just had to work some things out," said Executive Vice President of Original Programming, Nick Grad. "David Zuckerman has done an amazing job adapting and reconceiving Wilfred for FX. It was his decision to step down from the showrunner's post, but we're very happy he is going to stay involved with the show. Both we and David have great faith in the ability of Reed and Eli to seamlessly step up and take over the reins. I have no doubt they'll do a great job."
Follow Leanne on Twitter @LeanneAguilera
[Photo Credit: FX]
MORE:
'Wilfred' Star Fiona Gubelmann Heats Things Up on 'Animal Practice' — EXCLUSIVE
'Wilfred' Stars Elijah Wood and Jason Gann on Season 2
Elijah Wood on 'Wilfred': 'It's a Guy & Another Guy in a Dog Suit Sitting Around, Smoking Pot'

Heidi Klum Cancels Her Annual Halloween Party Due to Superstorm Sandy
(Celebuzz)