FX Orders 90 More Episodes of Charlie Sheen's 'Anger Management'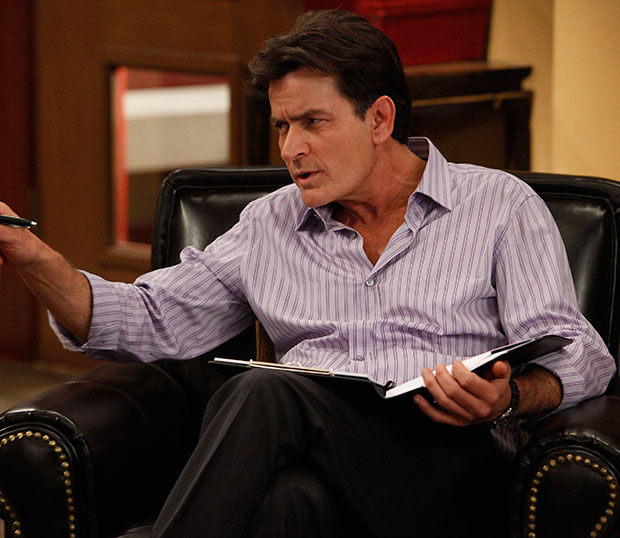 You can stop wondering whether anyone's watching Charlie Sheen's FX sitcom Anger Management — we've got a whole lot more Sheen coming down the pipeline. Hollywood.com has confirmed that FX has picked up a whopping 90 episodes of the Bruce Helford-created series, which premiered on June 28 to massive numbers, making it the most-watched scripted cable comedy ever.
The exorbitant number of episodes is no surprise: the show was initially ordered with talk of a back-90, provided that Management hit a specified ratings threshold — which it seemed to easily surpass with its first 10 episodes. But why 90? Why not, say, another 40 or 50? An even 100 is considered the magic number for a show to hit syndication, which explains why Sheen's post-Two and a Half Men comedy is getting the fast-track to the Debmar-Mercury treatment.
FX suits hope that all 90 episodes will be completed over the next two years. Production on Season 2 of the series — which finds Sheen as wizened therapist Charlie Goodson, who dishes out anger management advice despite often needing to heed it himself — begins on September 24, with Martin Sheen notably joining the cast as Charlie's father. Can you say "winning?" 
Follow Marc on Twitter @MarcSnetiker
[Photo Credit: FX]
MORE:
'Anger Management' Premiere: It's Charlie Sheen Like You've… Seen Him Before
Origins of 'Anger Management' : Analyzing Charlie Sheen's Many Onscreen Charlies