G4 Making A 'Hurt Locker'-Inspired Reality Series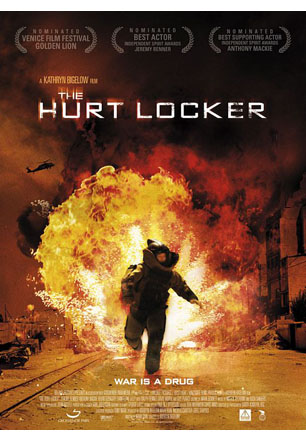 Well this is a change of pace: next up for the network behind Attack of the Show and Campus PD is "Bomb Patrol: Afghanistan", a Hurt Locker-inspired reality show that follows a U.S Navy Explosive Ordinance Disposal (EOD) unit.
According to The Hollywood Reporter, the Comcast-owned G4 network, which ordinarily focuses on video game and related "male" programming, has ordered 10 one-hour episodes of Bomb Patrol, which is being billed as "a real-life version of Oscar-winning film The Hurt Locker."  The series will begin production alongside a new EOD unit training in the United States, and then will follow them during their deployment for several months in Afghanistan.  
While the presence of such high-stakes, political subject matter on the network behind Ninja Warrior may strike some as peculiar, G4 president Neal Tiles insists that "Bomb Patrol" is still on brand.  "We've always said the young male demo has extremely varied interests," said Tiles.  "Both G4 and the Navy like this for the same reason: It appeals to the tech side of G4's demographic."  More to the point, the addition of the wartime reality series is part of the network's larger strategy to shift from the video game-based niche it once occupied to competing for the more lucrative 'general male interest' market currently cornered by networks like Spike.
Although I was at first repulsed by the combination of the words "Hurt Locker-inspired" and "reality show" (bringing to mind some kind of sick reality competition), it does sound like Tiles and the network are taking their subject matter seriously.  Bomb Patrol: Afghanistan looks to be a sobering and respectful look at the brave members of our armed forces who are putting themselves on the line each day in such a stressful and highly specialized position.  
"There is simply no way to comprehend the incredible amount of pressure and split-second decision-making these individuals must undertake in the worst possible physical conditions without riding along with them as our cameras will do," Tiles said in a recent statement.  "This is a rare opportunity to showcase the work of the courageous men and women on the front lines and share with our viewers all the real-life drama, teamwork, danger and triumph that goes along with this specialized job."
G4 has signed a special agreement with the U.S. Navy to film Bomb Patrol – presumably involving a number of restrictions and limitations to protect both the crew and the members of the EOD unit – but the military will not have any creative control over the show's production, network representatives said.
Bomb Patrol: Afghanistan will premiere this spring.