Where to Find Everyone Who Died on 'Game of Thrones' This Season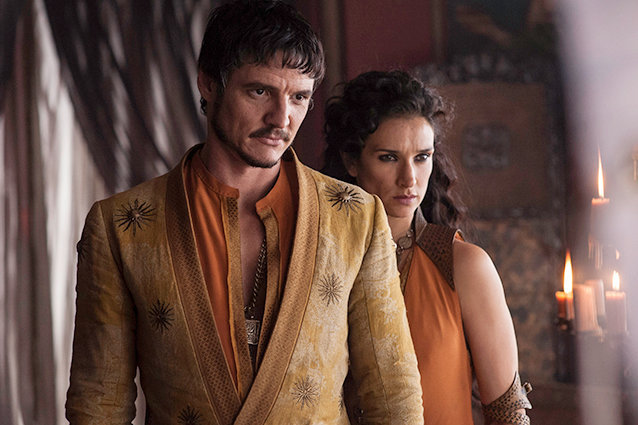 HBO
This Post Contains Spoilers for Season 4 of Game of Thrones. 
It's always difficult when your favorite character gets killed on a television show. You've spent weeks getting to know them, growing to care about them, and watching them go on adventures, and so when the Grim Reaper finally comes for them, it's a bit like losing a family member. Nobody knows that pain nearly as well as those who watch Game of Thrones, which seems to kill off a beloved character every other week. Luckily, we have some good news for fans of Pedro Pascal's Oberyn Martell: you will get to see him again. 
Technically, you'll only be seeing Pascal, who has been cast in the upcoming Netflix series Narcos, according to Deadline. The drama will follow the legendary drug kingpin Pablo Escobar (Wagner Moura), and the efforts of the US government to take him down. Pascal will play Javier Pena, a DEA agent who is sent on a mission to capture and kill Escobar – as long as he doesn't get too distracted plotting his revenge. However, the Red Viper isn't the only person killed this season who will be popping up somewhere new, so in order to help you through the grieving process, we've rounded up all of the major characters who died this year on Game of Thrones, and where you can catch them next. 
Pedro Pascal
Who He Played: Oberyn Martell, Prince of Dorne, trader of barbs, seeker or revenge and bedder of anything with a pulse.
How He Died: His head was smashed in by Ser Gregor Clegane during Tyrion Lannister's trial by combat.
What He's Doing Next: Playing Javier Pena, a Mexican DEA agent on the upcoming Netflix drama Narcos, which is slated for a 2015 premiere. He's also starring in the TV movie Exposed, about an investigative photojournalist, and the vampire film Bloodsucking Bastards.
Kate Dickie
Who She Played: Lysa Arryn, Lady of the Vale, widow of former Hand of the King Jon Arryn, new wife of Petyr Baelish, and overly attached helicopter parent of Robin Arryn.
How She Died: She was shoved through the Moon Door by Petyr Baelish. Her death was ruled a suicide.
What She's Doing Next: Starring opposite James McAvoy in Filth, which is currently in theaters, as well as The Silent Storm with Homeland's Damian Lewis, and the indies Take It Back and Start It All Over and A Northern Soul.
Burn Gorman
Who He Played: Karl Tanner, one of the most disgusting, reviled people in the Seven Kingdoms… and considering the characters on this show, that's quite an achievement.
How He Died: Jon Snow ran him through with a sword during a raid on Craster's Keep, which Karl had taken over.
What He's Doing Next: Currently starring on the AMC series Turn as the British commanding officer Major Hewlitt. He's also playing Mr. Bran in the upcoming Disney film Alexander and the Terrible, Horrible, No Good, Very Bad Day and is reuniting with his Pacific Rim director Guillermo del Toro for the upcoming vampire film Crimson Peak.
Jack Gleeson
Who He Played: Joffrey Baratheon, the worst, most insufferable child king who ever lived.
How He Died: He was poisoned at his wedding to Margaery Tyrell, in a plot by her grandmother, Lady Olenna and Petyr Baratheon. His uncle Tyrion has just been found guilty for his murder.
What He's Doing Next: Gleeson has retired from acting in order to focus on his studies – he's currently enrolled at Trinity College in Dublin, where he's studying Philosophy and Theology – and to pursue some more philanthropic ventures. Basically, the real King Joffrey is a wonderful human being. 
Noah Taylor
Who He Played: Locke, a hired hand who works for House Bolton, and the guy who cut off Jaime Lannister's hand.
How He Died: After he infiltrated the Night's Watch and accompanied them on the raid to Craster's Keep, his neck was snapped by Hodor after he attempted to kidnap Bran. Well, technically, he was killed by Bran, who was currently using his Warg abilities to inhabit Hodor's mind.
What He's Doing Next: In addition to a playing a supporting role in Edge of Tomorrow, which is currently in theaters, Taylor will appear in the Ethan Hawke time-travel film Predestination and Welcome to Karastan opposite Matthew McFayden. He's also doing voice work in the upcoming Maya the Bee Movie, alongside Jacki Weaver and Kodi Smit-McPhee.
Andy Kellegher
Who He Played: Polliver, a Lannister man-at-arms who stabbed Arya's friend Lommy and stole her sword.
How He Died: Arya stabs him through the throat after re-enacting the way that he killed Lommy.
What He's Doing Next: Appearing in two Irish films: A Nightingale Falling, which takes place during the Irish War for Independence, and The Hit Producer, which follows a down on his luck music producer as he journeys into the underworld of modern-day Dublin.