'Game of Thrones' Meets '50 Shades of Grey' — A Reading From Tywin Lannister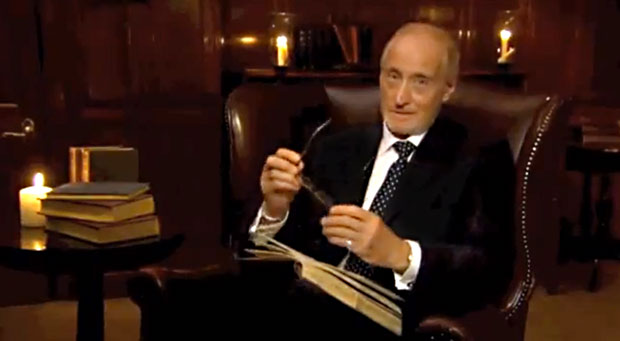 That scene with Joffrey branding those whores in Season 2 makes so much sense now. The Joffers' Game of Thrones on-screen grandfather — acclaimed English actor Charles Dance — recently appeared on the British game show Big Fat Quiz, where he agreed to do a reading from the popular S&M book 50 Shades of Grey.
Dance has one of those deep, elegant voices (think Michael Caine) that's imbued with dignity and intelligence, so hearing him read the part of Anastasia Steele (the worst heroine ever) needs to be seen to be believed. Oh, and FYI — the role of Steele in the upcoming feature film has not yet been cast, and after hearing Dance say "kinky f**kery" several times, I think we have our winner. Check out the video below, and be sure to watch Dance bring out his "inner goddess" when Season 3 of GoT premieres on March 31:
Follow Shaunna on Twitter @HWShaunna
[PHOTO CREDIT: Channel 4]
MORE:
'Game of Thrones' Season 3 Promo Teases New Characters, Locations, and More — VIDEO
'Game of Thrones' Teaser Shows HBO, Like the Lannisters, Always Pays Its Debts — VIDEO
'Fifty Shades of Grey': Disguise Your Copy With These Book Covers!

Child Stars: Where Are They Now? (Celebuzz)