How Long Must We Wait to See a 'Game of Thrones' Guest Spot on 'Parks and Recreation'?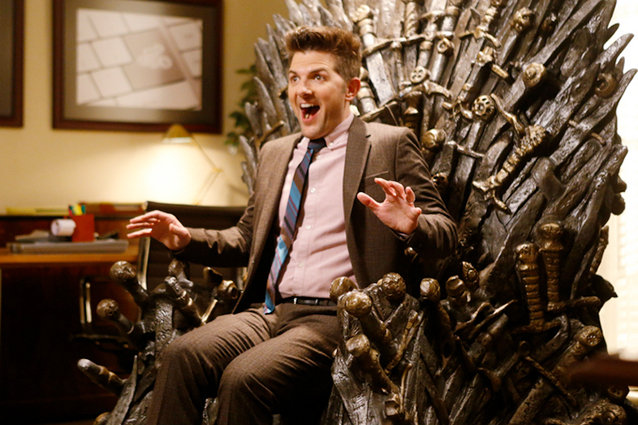 NBC Universal Media
Tom: "What is wrong with you today? Did they cancel Game of Thrones?"
Ben: "Nothing is wrong, just do your job… And they would never cancel Game of Thrones. It's a crossover hit. It's not just for fantasy enthusiasts, they're telling human stories in a fantasy world."
Parks and Recreation's Ben Wyatt loves Game of Thrones like Leslie Knope loves Pawnee. He calls his wife "Khaleesi" when she needs a pep talk. He bids online as "TallTyrionLannister." He quite nearly loses his mind when presented with a full-scale replica of the Iron Throne. In other words, Game of Thrones fans: he is us.
With Ben's fanboying over the show and Donna's appreciation of its sexy cast as a running Parks joke, it's only a matter of time before someone from the Seven Kingdoms hitches a dragon ride over to City Hall. Think of the possibilities: Emilia Clarke as an Eagletonian post-debutante who becomes the target of Tom's finest pick-up lines? Jack Gleeson as a hoodlum friend of that monster Greg Pikitis? Even better, how about Kit Harington and Richard Madden as strapping suitors bickering over Donna "You Can Get It" Meagle?
Whatever mountains have to be moved to make this happen will be worth it when the writers' room that brought you video store owner Dennis Lerpiss and talk radio host Derry Murbles get to come up with Parks names for these guys. What's Hodor in Pawneean, we wonder?
Now that the sitcom is for sure returning for a seventh season, hopefully some backstage dealings are happening between these unlikely sister shows. And maybe, for Thrones characters who meet their violent end, a Parks guest spot can at least soften the blow.
Which Game of Thrones actors would you like to meet Leslie and company? Tell us in the comments!