'Game of Thrones' Goes to High School in YouTube Parody Series — VIDEO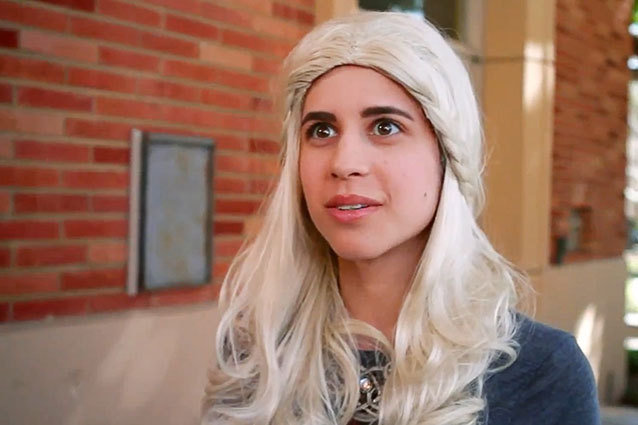 Everyone knows that the only thing worse than living in the cliquish, war-torn land of Game of Thrones is living in the cliquish, war-torn land of high school. And now, thanks to a group of creative online comedians and YouTube stars, Westeros High is an actual thing… sort of. In a new ongoing webseries, characters like hipster Sansa Stark (Mary Kate Wiles) and new kid/loner Dani Targaryen (Ashly Burch) will navigate teen life in the midst of a deadly battle — the battle for prom king (and queen). 
RELATED: Extended 'Game of Thrones' Season 3 Trailer Adds Sex, Dragons, and Bears, Oh My!
"We are Starks — our way is the vintage way… and prom night is coming," says, of course, Robb Stark, as he wanders the brutal Westeros halls with the witchy Sansa, and the hilariously mopey Jon Snow. (The cliques/families don't hang together in Westeros High, just like in "real-life" Westeros.) Stark isn't running against a wonderfully bro-ish Joffrey yet (that honor goes to quarterback Renly and lame Mormon-esque "Lord of Light" pamphlet-pusher Stannis), but if they're remaining true to canon, he'll join the battle soon enough.
The whole thing is pretty hilarious for Thrones fans — I chuckled when little Tyrion shows up to drop some random wisdom-bombs, and the interactive note-pad version of Westeros High is extremely impressive. Other favorite moments include a shot of the Greyjoy family as the swim team (ha!), and Loras Tyrell's glorious hair. Check it out below:
Follow Shaunna on Twitter @HWShaunna
[PHOTO CREDIT: School of Thrones/Youtube]
---
You Might Also Like:


8 Male Stars With Tramp Stamps


15 Stars Share Secrets of their Sex Lives (Celebuzz)