'Game of Thrones' Season 3: Who Will Die?
Daenerys Targaryen
Played By: Emilia Clarke Last Seen: Having recovered her dragons from the House of the Undying, Daenerys has fully established herself in Essos. Now, she'll try to purchase a large army of eunuchs to take back the Iron Throne. Odds of Death: Zip. Dany is the great warrior princess of our story. There's no way she's exiting anytime soon. Also, she can withstand fire!
HBO
Theon Greyjoy
Played By: Alfie Allen Last Seen: Being knocked unconscious by his own men and dragged back to the Iron Islands once it became clear he wouldn't be able to hold Winterfell. Odds of Death: Theon has pretty much alienated everybody in the North after making it seem like he'd killed Bran and Rickon Stark. Many foes will be gunning for him...is he crafty enough to outwit them all?
HBO
Tyrion Lannister
Played By: Peter Dinklage Last Seen: Recovering from the wounds he suffered at the Battle of Blackwater, Tyrion was replaced as Hand of the King by his father, Tywin. Odds of Death: Absolutely nil. We all have our skills. Tyrion's is being able to cheat death, even when everything seems pitted against him. He's walking proof that brains are more important than brawn in Westeros.
HBO
Joffrey Baratheon
Played By: Jack Gleeson Last Seen: Running to the safety of his mother's arms as Stannis Baratheon's fleet bore down on King's Landing. After their surprise victory, for which he could claim no credit, he broke off his engagement to Sansa Stark in favor of a more strategic alliance with Margaery Tyrell. Odds of Death: Basically, everybody in Westeros hates this guy. And, unlike Theon, he doesn't have the wits to survive.
HBO
Cersei Lannister
Played By: Lena Headey Last Seen: Approving of her son's new betrothal to Margaery Tyrell, and gloating that her brother Tyrion has been kicked out of power now that Tywin has become Hand of the King. She also threatened to kill anyone Tyrion loves, which could mean bad news for Shae. Odds of Death: Cersei is a force of nature. It's hard to imagine any killing her, even if she is starting to fear her own son, Joffrey.
HBO
Sansa Stark
Played By: Sophie Turner Last Seen: Though she's been spared a marriage to King Joffrey — we've seen how he likes it in the bedroom — Sansa may now simply become a hostage at King's Landing. Odds of Death: Without the protection of that betrothal, Sansa could be in greater jeopardy now than ever before. We know Joffrey likes to kill people on a whim...
HBO
Jon Snow
Played By: Kit Harington Last Seen: Being led into the far north beyond the Wall to meet Wildling King Mance Rayder. Odds of Death: Mance may want to use Jon to send a message to the Night's Watch, and it doesn't seem likely that he'd be marched all the way to his stronghold just to be killed. Plus, he has the protection of Ygritte!
HBO
Melisandre
Played By: Carice van Houten Last Seen: The clothing-averse priestess of the Lord of Light risked losing her position with Stannis Baratheon after his failed attack on King's Landing. But she has promised that he will become king nonetheless. Odds of Death: The night is dark and full of terrors, but we have a feeling she'll be around to manipulate Stannis for quite awhile.
HBO
Tywin Lannister
Played By: Charles Dance Last Seen: Unaware that Arya Stark had been in his service for much of his time at Harrenhal, Tywin drove off Stannis Barratheon's forces from King's Landing, and replaced his son Tyrion as Hand of the King. Odds of Death: Like Sean Bean before him, Charles Dance is an actor who always seems to die a horrible death in anything he's in. But since he trusts no one, it'll be hard for his foes to reach him.
HBO
Brienne of Tarth
Played By: Gwendoline Christie Last Seen: Taking a captive Jaime Lannister back to King's Landing as a ploy by Catelyn Stark to retrieve Sansa and Arya. Odds of Death: Lady Brienne is a knight, meaning that she puts herself in harm's way a lot. Even with her own swordmastery, there may come a day when she crosses blades with a superior opponent. Could that superior opponent by Jaime?
HBO
Jorah Mormont
Played By: Iain Glen Last Seen: The exile knight has helped protect Daenerys on her journey through Essos, but he had to let her face the House of the Undying herself. That was tough, considering how hard he's fallen in love with her. Odds of Death: If you're a professional bodyguard, you pretty much make it your job to take an arrow, or a deadly sword blow, for your boss.
HBO
Bran Stark
Played By: Isaac Hempstead-Wright Last Seen: Being carried out of Winterfell with the help of his Wildling friends. Odds of Death: Like Arya, Bran is now an exile traversing a hostile landscape. Unlike Arya, he doesn't have fighting skills...or the use of his legs.
HBO
Arya Stark
Played By: Maisie Williams Last Seen: Fleeing from Harrenhal after her skinchanger friend made it possible to escape from the Lannister stronghold. Odds of Death: She's pluck and has pointy Needle at her disposal. What else does a girl need?
HBO
Catelyn Stark
Played By: Michelle Fairley Last Seen: Imprisoned by her own son, Robb, after she defied his orders and had Lady Brienne spring Jaime Lannister in the hope of trading him for Sansa and Arya. Odds of Death: With even her own son having turned against her, things aren't looking good.
HBO
Margaery Tyrell
Played By: Natalie Dormer Last Seen: Her family's forces accompanied Tywin to rid King's Landing of Stannis' troops. She got herself a betrothal to Joffrey out of it, meaning that she could be Westeros' next queen. Odds of Death: Being a lady friend of Joffrey's is...um...dangerous. But Margaery has a streak of larceny in her soul. She even encouraged her brother to sleep with former husband, Renly. So yeah, she can take of herself.
HBO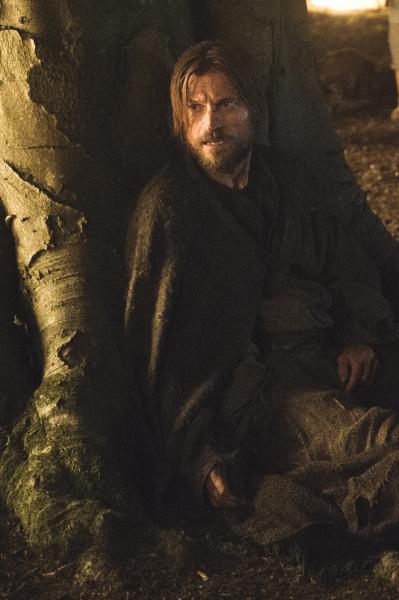 Jaime Lannister
Played By: Nikolaj Coster-Waldau Last Seen: Having developed a grudging respect for his captor Brienne of Tarth as she takes him back to King's Landing. Odds of Death: The Kingslayer die? I think not.
HBO
Robb Stark
Played By: Richard Madden Last Seen: Continuing to score victories against the Lannisters as King of the North, while getting married to Talisa, a healer from Volantis — and major hottie. Odds of Death: He's fighting three other would-be kings, and, like his father, he doesn't seem willing to fight down and dirty. That could cost him his head.
HBO
Ygritte
Played By: Rose Leslie Last Seen: Prone to saying "You know nothing, Jon Snow!" she's currently accompanying him on his long march to meet Mance Rayder. She's offered to school him in the ways of the flesh, an offer Jon would be very foolish to refuse. Odds of Death: Ygritte has the home-field advantage and a budding ally in Jon. She should survive.
HBO
Shae
Played By: Sibel Kekilli Last Seen: Fearing for Shae's safety, Tyrion tried to send his lover away. Odds of Death: Cersei has vowed to kill anyone who Tyrion loves. That puts a big target on Shae's back.
HBO
Stannis Baratheon
Played By: Stephen Dillane Last Seen: Being fed sweet nothings by Melisandre about how he'll still be king, despite his devastating defeat at Blackwater. Odds of Death: We have a feeling the Lord of Light will still have his back.
HBO