George R. R. Martin Reveals Plan for a 'Game of Thrones' Prequel Show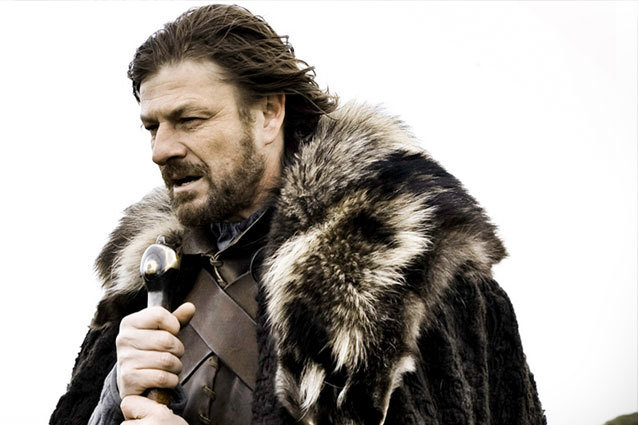 Season 3 of HBO's hit fantasy series Game of Thrones hasn't even begun to air yet, and already fans are clamoring for more, more, more! And Thrones author George R. R. Martin is happy to oblige. He revealed to IGN that a Game of Thrones prequel may be in the works at HBO.  
Martin tells IGN that his Tales of Dunk and Egg novellas may headed for TV. "I have been writing for a number of years a series of novellas set in the same world, the world of Westeros, about 100 years earlier about two characters called Dunk and Egg," Martin says. "I've published three of those novellas, and I have in mind about nine or ten more novellas about the adventures Dunk and Egg. So we have been playing with the idea of doing those as prequels."
RELATED: 'Game of Thrones' Cast Begs Author to Spare Their Characters
Game of Thrones fans take note, however, Dunk and Egg's stories aren't quite the incestuous, murderous fare you're familiar with. "They are somewhat lighter in tone than the main series, a little more adventurous," Martin says. "But my fans love them and I love the two characters, too, and it all ties in to Westeros, so maybe that's what we'll do [for a show]. We'll see." But even with lighter, more whimsical stories, Thrones fans will be given a glimpse of Westeros in the days before Robert Baratheon took the Iron Throne. 
If the Tales of Dunk and Egg don't pan out, Martin tells IGN he has plenty of ideas for more projects with the network. "I have some ideas for some pretty cool new series. They'll be dramas, I'm not a comedy guy," he says. "I have an idea for a science fiction show, a couple with a historical base, I know HBO does great historical dramas for various different periods."
RELATED: New 'Game of Thrones' Teaser Teases… Not A Lot
But before any shows can take shape, Martin reveals that he needs to find capable showrunners. "The trick is, I have to find another David Benioff and Dan Weiss," Martin says. "Because while I can come up with the ideas and the concepts for the show, I'm not in a position to write them because I have 3,000 more pages of the books to write, and that has to remain my top priority." Thrones fans worried that Martin will pull a Robert Jordan can breathe a sigh of relief. 
Follow Abbey on Twitter @AbbeyStone
[Photo Credit: HBO]
---
You Might Also Like:


15 Oscar-Winning Nude Scenes


13 Most WTF Fan Tributes