George Washington is Evil, and Romney and Obama Face Off With Fists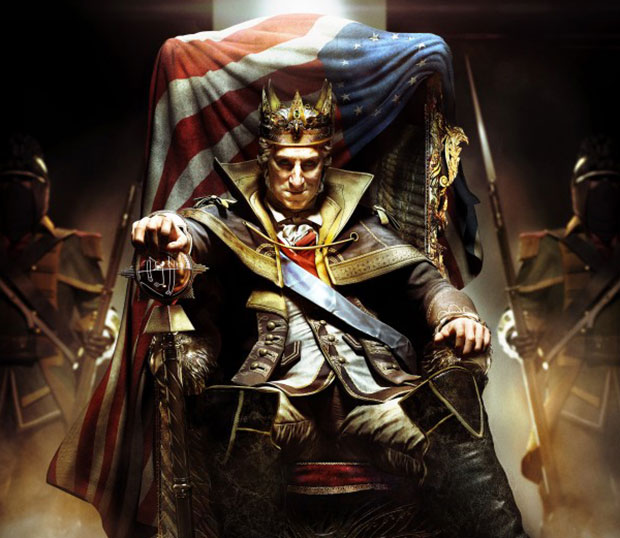 Tonight's debates sure as hell won't be as exciting as this.
The Tyranny of King George, an additional storyline that will be added to the upcoming game Assassin's Creed III as downloadable extra content, focuses on an evil George Washington.
…evil George Washington?! You read that right. The story poses an interesting twist on the history of the birth of our country: What if our founding father George Washington treated his power over the newborn nation in the same way a dictator or tyrant would? The game answers that question the only way gamers know how…
You have to kill George Washington.
This new storyline is, of course, building on pop culture's badass president trend — just four months ago, we watched Abraham Lincoln hunt blood-suckers in Abraham Lincoln: Vampire Hunter. I thought that was as badass as a president could get. And then I saw evil King George Washington. Chills.
Wish you could see a more relevant duel? While Obama and Romney won't exactly be tyrannical and evil tonight during the First Presidential Debate, if you do want to see the candidates go at each other in a way you can only see in video games, check out Political Kombat '12 from our friends over at Slate.
If you want to watch the candidates go at each other in a civilized, realistic format, be sure to watch the debates tonight at 9/8c on all major networks.
Follow Sydney on Twitter @SydneyBucksbaum
[Photo Credit: Ubisoft]
More:
DNC 2012: Biden & Obama Join The Ranks of the Best Pop Culture BFFs
Caught on Tape: Mitt Romney Joins Pop Culture's Most Incriminating Videos
We Can Thank Mitt Romney For Keeping Jason Sudeikis on 'SNL'… For Now