Getting Pumped for the 'Vampire Diaries' Season 4 Premiere: 101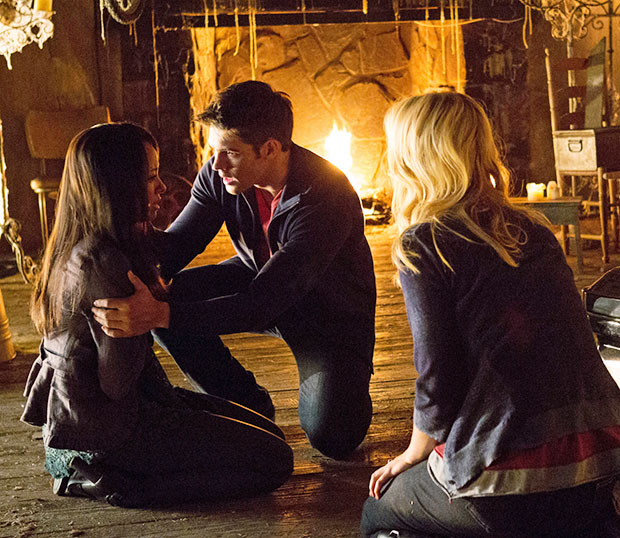 Over the next few months, we'll see new series soar, old series sour, and so much Jersey Shore madness, we'll want to shower. Let's face it: The Fall TV season is intimidating. With dozens of new and returning shows hitting our small screens, we know we have some big choices to make. So, to help you determine what to watch, we're digging deep into the most notable series premiering this season. Where did each show leave off? Where is it headed? And who should you watch it with? Today, it's veteran supernatural series (and the object of many of a television fan's embarrassing obsession) The Vampire Diaries.
Series: The Vampire Diaires
Season 4 Premiere: Thursday, Oct. 11 at 8 PM ET on the CW
Ian "Smolder-holder" Somerhalder:
Cast Members Who Aren't Ian Somerhalder: Lovely Nina Dobrev (Elena), dashing Paul Wesley (Stefan), adorable Candice Accola (Caroline), beguiling Joseph Morgan (Klaus), and muscular Michael Trevino (Tyler). Plus, Steven R. McQueen (Jeremy), Kat Graham (Bonnie), and Zach Roerig (Matt). It's like a pretty people Pu-Pu platter.
Last Season, on The Vampire Diaires: Evil Alaric outed the vampires to the town council, putting everyone we care about on this show in danger. Bonnie did a spell that placed Klaus in Tyler's body, and there's no word on what that means for Caroline's one true love. His fate is still undetermined. Stefan respected Elena's wishes when he attempted to rescue her and Matt from the Rebekah-induced car accident on Wickery Bridge. Matt lived, but Elena didn't make it. Stefan is, of course, destroyed (as are we, because Elena had just chosen Stefan over Damon and was on her way to tell him that) until Dr. Fell's fancy blood-work from earlier in the episode does its thing: Elena awakens a baby vampire.
Where We're Going This Season: Will Elena complete the vampire transition? And will Stefan still be her chosen Salvatore now that her circumstances are different? Will Bonnie hold out under the weight of all this dark magic? Is Tyler gone? Or just dormant now that Klaus is occupying his body? Will the council really take out all the vampires in Mystic Falls?
Tumblr That Does the Best Job of Praising All of the Characters (Even Elijah!): F**k Yeah Vampire Diaries
Best Cast Member to Follow On Twitter: Somerhalder, if for no other reason than the fact that he has a cat in his profile picture. 
Who to Watch it With:
People who love the show as much as you do.
Who Not to Watch It With: Anyone who can't get over the supernatural premise; people who talk over television shows; people who like to point out when something is too unrealistic; people who are stuck on the fact that Somerhalder's character is "too old" for Elena; people who hate fun.
Viewing Party Dress Code: Ladies in tight jeans, leather jackets, and high-heeled boots. Men in tight jeans, leather jackets, and motorcycle boots. Both: wear a sexy, sinister smile at all times. 
Wine and Cheese Pairing:
Something red, with lots of body. Try a Pinot Noir or a Malbec. And for food, vampires can't really eat real food, so it's just rude to go munching on a bunch of cheeses right in front of them. If, however, you can't hold out, sneak a morsel or two of high-cacao-percentage dark chocolate in between glasses of wine.
Season Premiere Line That Makes You Cringe, But You'll Get Over It Because You Love the Show So Much: Intro and mini-recap voiceover "And then there's me. I'm a human. At least… I was." – Elena
[Photo Credit: CW; Somerhalderland.tumblr.com]