The small screen has never had more big acclaim than it does right now. Forget the days of the boob tube being the last bastion of once top-flight actors and actresses, just trying to squeeze one more ounce out of their respective fame long after the halcyon days of the silver screen were gone. Today, thanks primarily to first-run cable networks showcasing shows of unparalleled critical acclaim, it has also never been a better time to be a fan of all-things-TV at Christmas. We proudly present just a few such offerings – with, ironically, no TV actually needed (particularly if you prefer to watch on your phone or computer). After all, who needs weekly TV at all if you have full seasons just an arm's length away?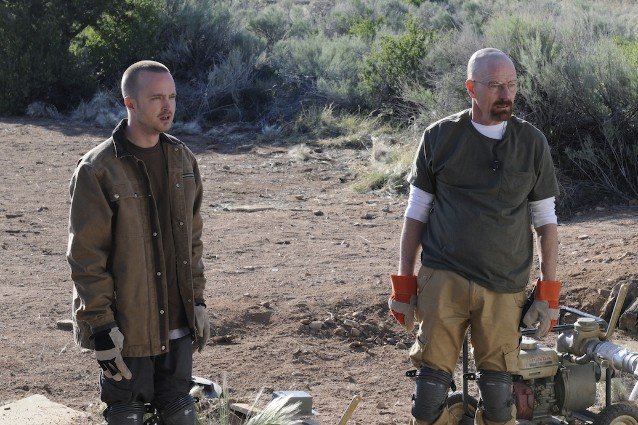 Ursula Coyote/AMC
Breaking Bad: The Complete Series (Barrel Edition)
The whole series. Everything. All in one shot. A Pollos Hermanos apron. Plus, a two-hour documentary – and 55 hours of bonus material. Inside a freakin' barrel. Whoa.
The Mystery Science Theater 3000 25th Anniversary Edition
No joke here (for once) as the MST 3000 gang comes together in a five-disc set with plenty of flicks, fun and bonus features.
Robotech: The Complete Set
One of the first anime imports back in 1985, this set collects (and remasters) every episode of Robotech: Macross; Masters and New Generation. Mecha-fantastic gift for any animation fan.
Naked City: The Complete Series
There are eight million stories in the Naked City – with 138 of them finding their way onto 29 discs in this epic set from the landmark series, a docu-drama filmed on location in New York with guest stars like Hackman, Redford, Duvall, Walken and Hoffman, just to name a few.
Murder, She Wrote: The Complete Series
For the first time ever, get all 12 seasons on 63 discs – in one collection – as Angela Lansbury (as Jessica Fletcher) is on the job in 264 thrilling episodes.