The Most Important Takeaway from Last Night's 'Girls'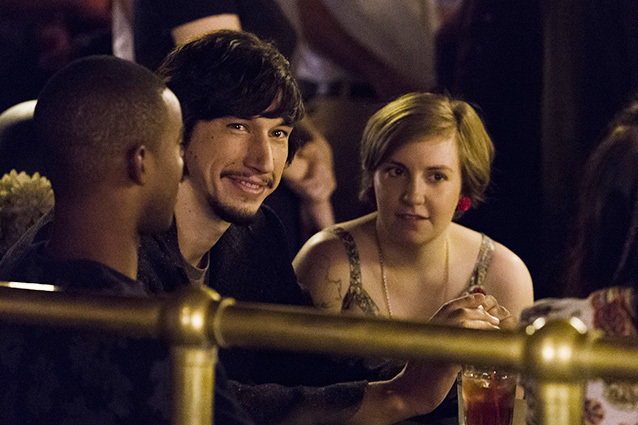 HBO
We don't want to be reductive here — we think the Hannah/Adam rise and fall is interesting, the Jessa relapse is emotional, and the desperation exhibited by both parties in the Marnie/Ray relationship is exemplary. But the greatest takeaway from this week's episode of Girls, and perhaps the season overall?
Adam's British accent.
True, this was not the first time this year that we heard Adam try his hand at a Londian affect in preparation for his role in a Broadway production of George Bernard Shaw's play Major Barbara. But it was the first time we were treated to Adam's go at an energetic h-dropping salutation: "'ello!" he exclaimed midway through the episode, upon hearing a rapping at the chamber door of his mate Ray's flat. Or something.
Up until now, we thought we had Adam's vocal range pegged: vaguely Midwestern and '60s-era outer space cowboy musician. But his Shaw storyline has thrown us for a loop. Now all we want from Adam Driver (as opposed to Adam Sackler) is a series of British roles.
A Shakespeare Adaptation
Preferably a comedy, since Driver's knack for the accent is wholly hilarious.
A Guy Ritchie Crime Thriller
Before he was tarnishing Sherlock Holmes, Ritchie was making passable action-filled, comedic crime movies, like Snatch. Driver as a British street tough would be enchanting.
A Ricky Gervais Sitcom
Although Driver's accent is a bit more heightened and hyperbolic than Gervais' naturalistic style, the earnest twentysomething could play well against the oft smarmy Gervais.
A Mary Poppins Remake
Saving Mr. Banks proves that Disney is, to this day, infinitely proud of its bastardization of P.L. Travers' children's book. So why not give it another go, this time with Driver taking on Dick Van Dyke's all-smiles bastardization of the Cockney speak?
A Wallace & Gromit Short
There's the winner.
But of course we shouldn't distract from Hannah, Jessa, Marnie, or Ray — each worked with particularly interesting material this week. Hannah quit her job in a, once again, Patti LuPone-inspired huff. Jessa got a job as the assistant to photography maven Mary Hartman2, one that could have been Marnie's were she not too vain and self-doubting to dare present herself in the confrontational light that the gifted artist wanted in her second-in-command. Marnie continued to exhibit her insecurities when she vied for the romantic affections of Desi, continuing to understand herself to be of value only when boys want to sleep with her. So she slept with Ray, who, like her, is just fragile and desperate enough to fall into the arms of the sort of person he considers "beneath" him. It's a wonderful relationship these two have brewing… especially now that Hannah knows about it (yes, she walked in on them, without regard, in the final moments of the episode).
All that is well and good. But Adam's accent is weller and better. Pip pip.