'Girls' Casts Rita Wilson as Marnie's Mom — PIC
Back when Lena Dunham's dramedy Girls premiered on HBO, it boasted the casting of someone most recognizable for wearing women's clothing and sharing a residence with Tom Hanks: Peter Scolari. Hanks' Bosom Buddies costar recurs as the father of Dunham's compulsively self-sabotaging young writer Hannah Hovarth. Season Two, which is presently in production, will keep in step with its stellar predecessor, introducing another character played by someone who wears women's clothing and shares a residence with Tom Hanks: Rita Wilson.
Heidi Schaeffer, who represents Wilson, told Hollywood.com that Hanks' multihyphenate wife will be appearing during the series' second season as the mother to Allison Williams' character Marnie Michaels. Below is a photo of Wilson and Williams filming a scene together for an episode directed by Dunham.
So what kind of mother will Wilson provide for narcissistic Marnie? Overly critical? Enabling? In town just to rope her wide-eyed daughter into one of her many get-rich-quick schemes? (Probably not that.) And now that Girls has managed to nab both Wilson and Scolari, when the hell is Tom Hanks himself going to be on the show?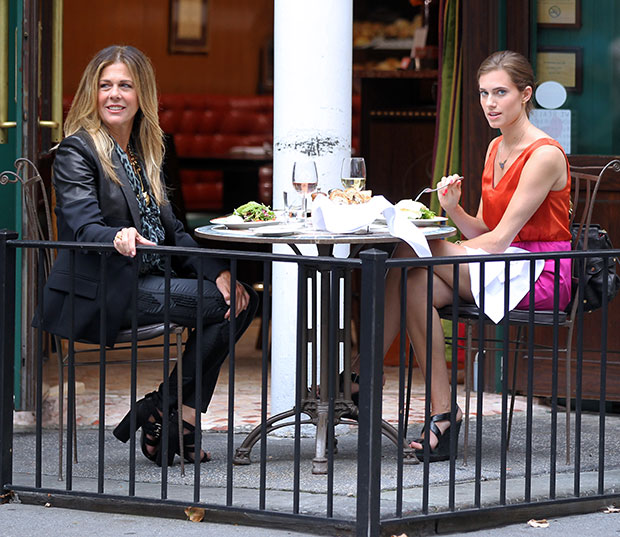 [Photo Credit: Christopher Peterson/Splash News]
More:
Donald Glover To Appear On 'Girls'?
Lena Dunham Confesses Jimmy Fallon Crush to Jimmy Fallon — VIDEO
Pop Culture Dioramas: Art inspired by 'Avengers,' 'Magic Mike,' and More