'Girls' Season 3 Pic: Are Hannah and Adam Officially Back Together?
Considering the Season 2 finale of Girls ended on an unbelievably sappy note of Adam quite literally carrying Hannah to safety in his arms, it's hard to call this photo a spoiler. I mean, these two were bound to get together considering they turned Adam into a saint finally looking for true love (who also occasionally kind of rapes his girlfriend Natalia, but tomato, tomah-toh) and Hannah into a completely helpless basket case in need of saving.
But, here it is, a shot of Lena Dunham and Adam Driver having a passionate lip lock while filming a scene from Season 3 of the HBO series in New York City. It appears that Dunham's Hannah is a holding a note (a love letter for him, perhaps?) and Driver's Adam has an overflowing backpack with what looks like a gift bag inside of it (a present for her?) Take a look: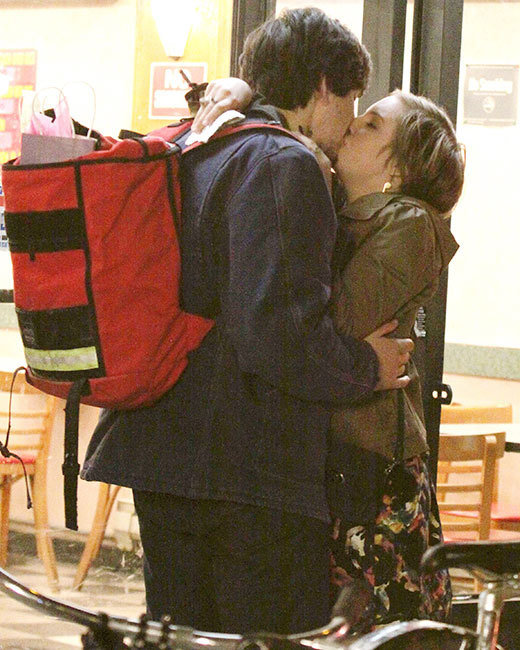 Alright, it's a pretty hot-looking kiss, but not a terribly surprising one. I mean, with Jessa and Thomas John split up, not to mention Shoshanna and Ray, with the same fate more than likely for Marnie and Charlie (thanks to Christopher Abbott's abrupt exit from the award-winning series), it's all pretty much riding on Hannah and Adam for any sort of romance on the dark comedy. Still, these two should have tried staying single a little longer in order to get their s**t together. Let's just hope that, even if she got Adam back, she finished that damn e-book first. 
Follow Aly on Twitter @AlySemigran 
More:
'Girls' is Criticized for the Same Reasons 'Louie' is Praised'
'Girls' Season 2 Finale: Why the Last Five Minutes Ruined Everything
The 10 Worst Outfits From Season 2 of 'Girls'
---
From Our Partners


15 Nude Photo Scandals (vh1)


33 Child Stars: Where Are They Now? (Celebuzz)