Why is 'Girls' Criticized for the Exact Same Reasons 'Louie' Is Praised?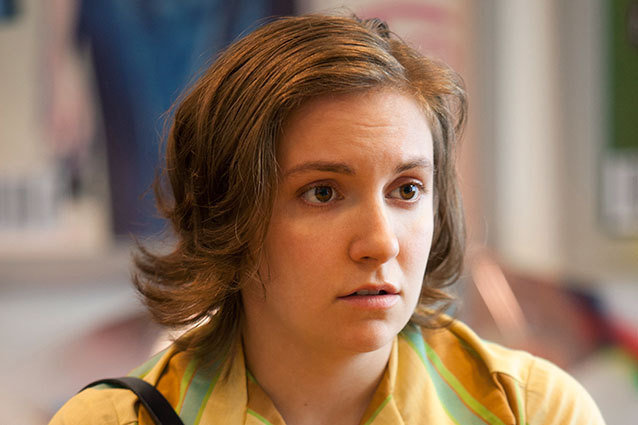 To say that Season 2 of Girls has been polarizing would be an understatement. There was that episode where Lena Dunham's Hannah snorted cocaine to write about what it's like to be high for a blog post. And then was that time she hooked up with a much older, much wealthier, much more conventionally attractive (and thus somehow out of her league) doctor played by Patrick Wilson. That really set viewers off. "Narcissistic, childish men sleep with beautiful women all the time in movies and on TV, so why should this coupling be so difficult to fathom?" asked Slate's Daniel Engberg. "I think it's because Hannah is especially and assertively ugly in this episode." Not to mention that Dunham's proclivity to take off her clothes at any given moment has gotten old fast. The Onion mocked the show by imagining a Season 2 finale in which Hannah eats a burrito while being examined nude by a gynecologist and suddenly experiences diarrhea.
So, with Girls actual Season 2 finale airing March 17, what is it about its sophomore run that's especially gotten under the skin of some viewers? Recently College Humor noted that many of the criticisms directed at Girls could also be lodged at Seinfeld, another show that served as a kind of love letter to New York, was semi-autobiographical on the part of its makers, and featured "unlikable" characters. But for our money that isn't the most accurate comparison. Seinfeld, for all its innovations, was still a three-camera sitcom, and though it projected the worldview of Jerry Seinfeld and Larry David it still very much followed a decades-long tradition of TV comedy. Girls actually has more in common with Louis C.K.'s FX series Louie. Aside from the fact that both shows are currently ongoing, both are steered by a uniquely singular level of authorship. Louis C.K. and Lena Dunham write, direct, and star in most episodes of their shows, and break out of the three-act sitcom mold to approach something almost akin to the form of a short story. Both are semiautobiographical, both feature very frank discussions or depictions of sex, both have their main characters doing very "unlikable" things, and both have major guest stars. Yet Louie is never subjected to the kind of criticism that's met Girls. The answer may in part be that the 26-year-old Dunham hasn't "paid her dues" but the backlash against Dunham's show is also invariably inspired by chauvinism, an avoidable topic, it seems, when it comes to women and comedy. The thing is, do some of these critics have a point?
RELATED: Lena Dunham Would Never Score With Patrick Wilson But She Deserves Him
As for Dunham not "paying her dues" in the comedy world, that particular criticism does get to the heart of the biggest difference between her and C.K.: the age difference. Louie is all about middle-aged melancholy and regret—Louis C.K. is 45—while Girls is about twentysomething bravado even when Hannah and her friends are at their most aimless. While Dunham burst onto the scene and landed an HBO show after directing and starring in one low-budget indie, 2010's Tiny Furniture, Louis C.K. toiled away in comedy clubs and staff writing gigs since the late '80s, slowly building a major audience the old-fashioned way. Even before Louie started earning raves on FX, he could sell out major theaters. "Lena Dunham, on the other hand, seemed to come from nowhere, and there's obviously a little resentment there," says Amber Watts, a professor of media studies, most recently of the University of Wisconsin-Madison. "There was a lot of attention when Girls first started about how all four of the actresses have famous parents, and therefore how little they really represent their characters. When Louis C.K. says, 'This is who I am,' however fabricated it may be, there's a few decades of stand-up—and industry-wide respect—to back it up. When Lena Dunham says it, it seems…presumptuous somehow?"
RELATED: 'Girls' Q-Tip Scene the Most Disgusting TV Moment Ever?
That sense of Dunham's presumptuousness is obviously due, in part, to the fact that she is the showrunner of Girls and the architect of its vision. That vision can be seen as self-serving, some of her critics' charge. While Louie consistently makes fun of his own schlubby looks, Dunham's consistent states of undress suggest an ultra-confident "If You've Got It, Flaunt It" attitude that may rub some the wrong way. While both Louie and Hannah seek sex, Hannah does so solely to score. But Jessica Glassberg, a Los Angeles-based comedian who recently wrote for the Screen Actors Guild Awards, thinks that Louie has a different motivation. "Louie is a sad character. He's the epitome of the sad clown. Do I find him unlikable? Personally, I don't. As a sad clown, wanting to appease the sadness with sex is a common theme in life."
The critics who say that Dunham overpopulates Girls with famous guest stars also have a point. She'll have Patrick Wilson play a doctor, Donald Glover play a young Republican, and Andrew Rannells as a gay guy who, nonetheless, has sex with Allison Williams. They're playing characters other than themselves. But by the very nature of casting guest stars you'll be distracted and think, "Oh look, there's Patrick Wilson!" On Louie, however, guest stars like Joan Rivers and Dane Cook usually play themselves, since C.K., a major force in the comedy world himself for years, would obviously cross paths with other comics. "Louie is playing a bizarro version of himself as a semi-famous touring comedian," Glassberg says. "And with that life would come some semi-famous, as well as über famous friends. The rare guest star who didn't play herself last season, Parker Posey, played a character even sadder than Louie who by no means was there just to hook up with him.
NEXT: Even if some of the criticism lodged against Girls has merit, the extent of the backlash shows how tough it is to be a female showrunner.
But even if some of those charges have merit, the backlash against Dunham is indicative of the greater challenge facing female showrunners. Behind the camera roles for women in Hollywood are shockingly few and far between. In 2013, only three blockbuster movies are actually directed by women. And comedy is a traditionally chauvinistic realm. For a female comic to be the writer, director, star, and showrunner of her own series, she's going to get some overly hostile blowback. The kind of blowback that Louis C.K. wouldn't get for being the writer, director, star, and showrunner of his series. Glassberg, who's part of a group called "Say Something Funny, B*tch!" that aims to promote female comics, notes how difficult it can be for women behind the scenes of the comedy world: "Have I been told that I can't get staffed on a certain show because they 'already have their woman on staff,' implying that they've met their necessary quota and there couldn't possibly be anyone who could benefit from having multiple women write for a show because we all think exactly the same way? Sadly, yes. Yes, I have."
RELATED: Only Three Women Are Directing Blockubster Movies in 2013
Part of that kneejerk backlash to Girls, Dunham, and Hannah may also be the "shock of the new" when it comes to this particular kind of female-driven comedy. Sure, there've been the Sex and the City comparisons, but Girls is decidedly darker—much like Louie, again. "The darkly comedic female antihero is a largely non-existent trope," says Watts. "There's a long history of male comic antiheroes (see: Peter Sellers' entire career), but for women? Mary-Louise Parker on Weeds…Laura Dern on Enlightened? That's all I can come up with. But Parker and Dern, unlike Lena Dunham, are older, respected, conventionally attractive, and not showrunners. Lena Dunham is working within a different paradigm—uncomfortable comedy that seems to make audiences even more uncomfortable because she's playing against standard tropes." The rarity of female characters in comedy who swear, have lots of sex, and sometimes do nasty, backstabbing things goes back to the old chauvinistic idea that women "acting like men" is unappealing.
RELATED: Lena Dunham Does Not Want to Look Like a Victoria's Secret Model
So what role do Dunham's looks play in all this? "If she looked like a young Mary-Louise Parker, the show's reception would be very different," Watts says. When you think of famous female comedians or comic actresses today, they largely fit conventional ideas of beauty: Tina Fey, Kristen Wiig, Amy Poehler, Julia Louis-Dreyfus, Olivia Munn. If a female comic falls outside of those beauty parameters, they can risk getting typecast pretty quick. Just look at Melissa McCarthy, who, distressingly, has quickly become a go-to "crazy lady." That kind of typecasting is not something Louis C.K. would ever have to worry about, nor is he limited even though he's not "conventionally handsome."
Even if, with her privileged background and meteoric rise, she's not as "real" a girl as we'd like, Dunham's refusal to be pegged as a "crazy girl" or some other easily identifiable stereotype—not to mention her refusal to go all Hollywood with her appearance—makes her more of a "real girl" than probably some people can handle. You don't have to like her, but she certainly doesn't deserve your hate, either.
Follow Christian Blauvelt on Twitter @Ctblauvelt
[Photo Credit: HBO/FX] 
---
You Might Also Like:


14 Movies Thshiat Are, Surprisingly, Not Porn