'Girls': Love At First Sight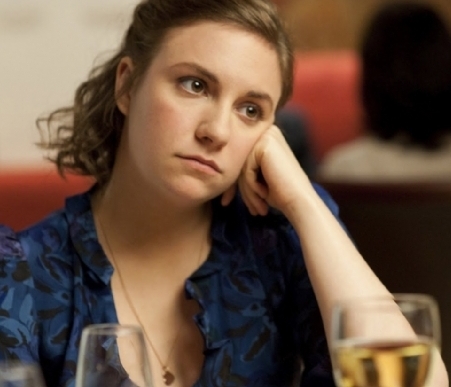 It's an inalienable truth that when you truly love someone or something, it's because of their flaws, not in spite of them. So it can only be described as love at first sight for the imperfect, but bold and daring Girls and its flawed heroines, lead by the show's fearless and funny creator Lena Dunham.
The pilot for HBO's new Judd Apatow-produced series debuted last night and the love likely wasn't just felt by enthusiastic television critics, but by audiences who could see themselves (perhaps a little too much) in its characters. Yes, the show is undeniably New York-centric and may strike a closer nerve with those inhabiting the Big Apple, but anyone struggling to get by in their 20s (read: anyone in their 20s) likely felt the sting.
In the opening scene of Girls we meet the droll Hannah (Dunham), wolfing down a fancy dinner with her parents (played by Bossom Buddies' Peter Scolari and Freaks and Geeks' Becky Ann Baker). Her parents then drop the bombshell: After years of lending Hannah financial support, they are cutting her off. A bewildered Hannah argues that "All my friends get help from their parents" and that Mom and Dad should simply be grateful that she is not a drug addict and should continue to foot her bills. And, with that, within the series' first few minutes, audiences either fell in love with Girls, or began to hate it. 
Ever since buzz for Girls began, critics and industry insiders depicted the series as one that would at last capture twentysomething life in New York. No day-long visits to Central Perk or inexplicably nice apartments beyond any reasonable financial means. It would expose the dirty, nitty-gritty truth about what it's like in the greatest (and, sometimes, worst) city in the world. Still, much like a carefree sitcom character, Hannah represents a very small demographic of young New Yorkers. Hannah and her friends may enjoy financial support from their parents, but so many people her age following similar dreams (the 24-year-old is trying to become a published writer) are out on their own. Hannah's spoiled, albeit very funny, rant inevitably likely turned some off from the get-go, but even those of us without an account at the Bank of Mom and Dad know someone like Hannah and more than understand the fear of an dwindling income and dreams of a big future. Hannah's complaint that "I am so close to the life I want" might just be the rally cry of every determined 20-something hoping to make it in New York.
Hannah's predicament wouldn't be so troublesome if her internship at a book publisher wasn't unpaid. Faced with the brave new world of financial independence, Hannah hopes that her hard work and determination will get her to the next step at her job: Actual employment. In a hilariously uncomfortable scene that likely hit the closest to home for anyone that has run the internship gauntlet, Hannah's boss declined her request and told her when she's hungry enough, it will happen. To which Hannah deliciously replied, "Do you mean like physically hungry or hungry for the job?"
But her dead-end job isn't Hannah's only concern. Messy relationships and complicated friendships also occupy her angst-riddled psyche. Hannah's relationship (if one could even call it that) is with a cold and clueless out-of-work actor named Adam (Adam Driver, one of many of Dunham's Tiny Furniture alums) who only responds to her when he sees fit. During a post-coital conversation, she tells him, "It was really good to see you" in a post-coital conversation, to which he replies, "I'm glad." Oof. Her friendships, thankfully, are a little more fulfilling. Hannah and her roommate Marnie (the beautiful Allison Williams) have an effortless, relatable best friend bond. They get ready in the bathroom together, honestly discuss their men woes (Marnie is fed up with her clingy but sweet boyfriend Charlie, played by Christopher Abbott), and simply "get" each other. There's also Jessa (Jemima Kirke), a hipster drifter whom Hannah loves to be around (whenever she actually is around), and Marnie, who Hannah has a harder time seeing eye-to-eye with. Jessa has arrived back in town (pregnant, no less) and is staying with her polar opposite, but well-meaning cousin Shoshanna (Zosia Mamet, taking a break from Mad Men). 
In one funny, but particularly telling scene, the insecure, but sweet Shoshanna discusses her fixation with Sex and the City with the too-hip Jessa. And, with that, the series courted the inevitable SATC comparisons. Or, I should say, the non-comparisons: In the weeks before Girls aired, it was also being heralded as the "anti-Sex and the City." It's not exactly the wrong sentiment. But even if Girls is the anti-SATC — focusing on the poor versus the New York elite — viewers would still be able to recognize elements of Girls' elder HBO sister in the show. It's all in the main character: Hannah is a self-involved writer, much like Sarah Jessica Parker's iconic Carrie, whose dialogue with her friends sounds like something straight out of one of her dating columns. (In one scene Marnie tells Hannah that the "Totem of Chat" goes as follows, "Facebook, Gchat, texting, email, phone. Face-to-face is of course ideal, but it's not of this time.")
Whether or not Dunham wants to hear it, women of the Girls era will be labeling themselves Hannahs, Jessas, Shoshannas, and Marnies, too, much like women of the early 2000s anointed themselves Charlottes or Mirandas or Carries or Samanthas. Heck, even the final scene of a disoriented, but hopeful Hannah disappearing onto a bustling Sixth Avenue — which knows not of her problems, nor would it care — felt about as Sex and the City as an anti-Sex and the City series could get.
Still, Girls very much has its own unique voice, one that was heard loud and clear throughout the pilot. When Hannah returns to hilariously plead with her parents for their financial help (after drinking some opium tea, no less), she tells them "I might just be the voice of my generation, or at least a voice of a generation." She might not be wrong. She might also just be our only viable alternative to 2 Broke Girls.
Girls will, no doubt, face its share of obstacles. Some will find Dunham's dry sense of humor and sense of entitlement (why can't she work at a McDonald's if she's so broke?) too polarizing, while others will inevitably deem it "a show for hipsters" based on Jessa's wardrobe alone. New Yorkers, as they so often do, will claim it as their own. Of course, that makes Girls that much more worthy of your love. Its imperfect characters and awkward moments may be hard to swallow at times, but that's only because it makes us reflect on — and laugh in the face of — our own flaws and mistakes. Like true love, sometimes great television is entirely capable of just that.
[Photo credit: HBO]
Follow Aly on Twitter @AlySemigran
More:
New Girls Trailer: The Judd Apatow Revolution Comes to HBO
Judd Apatow Teases New Series Girls: Trailer