'Girls' Season 2 Premiere Recap: Theme Night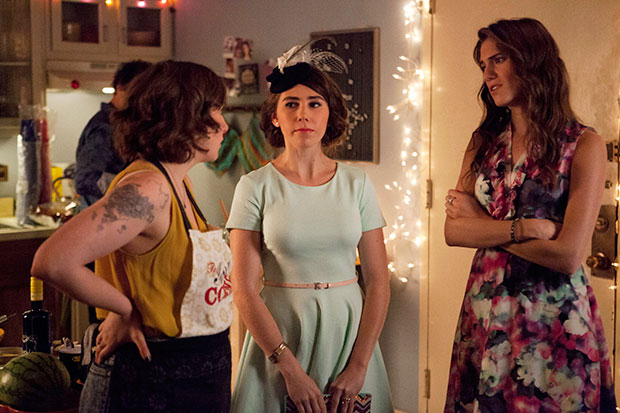 There was a recent article in the New York Times about "the end of courtship", about how this generation doesn't date — at least not in the traditional sense — anymore. Instead, twenty-somethings wind up in a series of convenient hookups and hangouts where romance is all but dead. The article likely resonated far too closely with some, and horrified others who wondered where it all went wrong. 
The same could be said about any episode of Girls, but it rang especially true with the long-awaited Season 2 premiere. Even more interestingly, the episode (titled "It's About Time") was just about that: how the girls of the Girls generation are readjusting to the new rules of courtship and blurred lines of relationships and social conducts, all while trying to come into their own in the Big Apple. 
Another big theme of last night's premiere was, well, themes. Hannah (Lena Dunham) and her new roommate/gay ex-boyfriend Elijah (a scene-stealing Andrew Rannells), in the midst of the line-blurring roommate bliss decided that, in addition to the housewarming party they were throwing, they'd start having theme nights. A fondue night, a craft night, a Japanese snack night, a French salon night. All those things you and your roommate say you'll do, but will never actually follow through with. (See, this is how Girls hits it on the head when it comes to peering into the lives of young Brooklynites.) But, in addition to theme of Well-Meaning, But Unrealist Roommate Plans, there were some other notable themes during the episode. 
The Hannah Being Hannah Theme: Lena Dunham knows who Hannah is. She knows Hannah will still help out a disabled Adam (Adam Driver) despite the fact that she no longer wants to be with him (or so she says) and that she's now casually dating/sleeping with a charming new fellow named Sandy (guest star Donald Glover). That she'll push the new guy away when he even uses the word "love", but let Adam get away with spouting his typical bulls**t about not needing labels to define his own love for her. And, in true Hannah fashion, when she wasn't wearing ill-fitting clothes, she simply wasn't wearing any at all. Lena Dunham knows what she's doing. 
The Disaster Waiting To Happen Theme: All the girls are following that theme, really. There's Hannah and her ultimately doomed courtship with Sandy (you just know she's going to wind up in Adam's manipulative arms) and her ultimately doomed friendship with Elijah (it's bad enough they sleep in the same bed together, but wait until she finds out that after a hilarious karaoke duet of "Building a Mystery", he and Marnie sort of kind of started to have sex.) Elijah and his sugar daddy boyfriend George are as co-dependent and messed up as Marnie is with Charlie (she wound up at his door looking for comfort, despite that fact that he's still with his terrible girlfriend Aubrey), so both of those relationships are doomed in their own ways. Then, there's Jessa (who showed up in true Jessa fashion at the last moment possible) and Thomas John (Chris O'Dowd). How doomed are they? Well, if you don't know where your new husband lives, it's not exactly a good sign. The only disaster that might weather the storm, against all odds, are Shoshanna and Ray. Go figure. 
Inevitable Sex and the City Comparison Theme: The recently-fired Marnie's sex-fueled brunch chatter with her very SATC-like mother (played by guest star Rita Wilson), Shoshanna and Ray's very Charlotte and Harry-like courtship, and George's very Lexi Featherston-like anti-new New York rant. It all felt like moments standing in the shadow of SATC, which is unfortunate really, because while the two HBO shows have plenty in common on the surface (centered around four independent women, New York City, sex, catching an amount of s**t for being self-absorbed and unlikable to a degree that Entourage never even scratched the surface of dealing with) Girls will hopefully break free from feeling too much like SATC Jr. That said, an occasional theme night is okay. 
The Killer One-Liner Theme: 
– "Sorry I have a boner. It's not for you." — Elijah, sleeping next to Hannah. (Kudos to Dunham for letting her small belly hang out in this scene. This is what people actually look like when they sleep.) 
– "My keen mathematical mind and fairly fast-growing hair." — Shoshanna, thanking her higher powers for her many gifts. 
– "I may be deflowered, but I am not devalued." — Shoshanna — who is "oh em effing gee amaze" — hear her roar. 
– "So, Hannah says Greenpoint and I'm like, 'Where the f**k is that'?" — Elijah, talking about his new neighborhood. 
– "I f**king hate grown-ups." — Hannah, saying what we all think. 
– "When you love someone, you dont have to be nice all the time." — Adam, on relationships. (True, but you do have to be nice sometimes, Adam.)
– "A panda next to a gun next to a wrapped gift, it makes no sense!" — Ray, on emojis. 
– "Bisexuals and Germans…I happen to be both." — Elijah, on the only groups of people still acceptable to make fun of. 
Aside from Marnie's chat with her unpleasant mother, this episode hit everything square on the head. From Adam's conveniently lax confessions of love ("You're my main hang") and Hannah promptly shooting them down to Shoshanna becoming the show's unexpected voice of reason, if these are the themes Season 2 will be exploring, Girls makes enduring your twenties worth all the heartache, humiliation, and hassle. 
[Photo credit: HBO]
More: 
'Girls': The Love-It-Or-Hate-It Series Is Back
'Girls' Season 2 Trailer: Anything Could Happen 
Lena Dunham Addresses 'Girls' Nudity, Implores Everyone to Cool Their Jets

Megan Fox's 12 Hottest Moments (Moviefone)

Ryan Gosling's 'Airbrushed' Abs: Plus 19 More Reasons We Love the Actor (Moviefone)