A Look Back at 'Girls' Season 3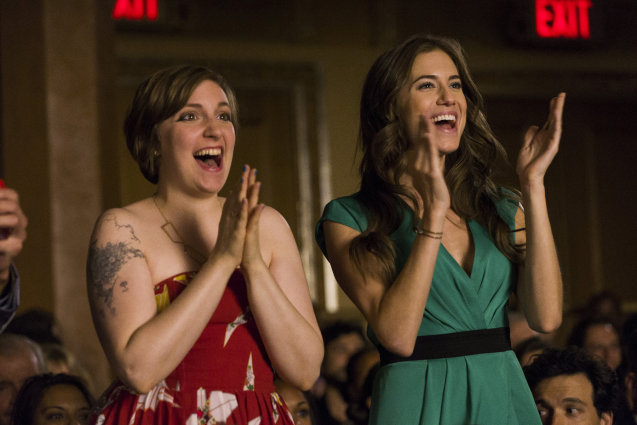 HBO
Girls' third season has had many detractors, a few supporters, a moreover healthy slew of watchers, a large percentage therein of HBO Go password stealers, a ton of recappers, at least one psychoanalyzer, and some ambiguous number of folks interracting with the show in a wide variety of creative, progressive, and destructive ways. Personally, I loved it throughout — the light, the dark, the cynical, the humanistic, the sad, and the funny all worked for me, though not without some qualitative hiccups. Here's a quick look back at Lena Dunham's third year on HBO, and a quick assessment of where we've seen her take her characters over the past 12 weeks.
WHEN THE SEASON STARTED OUT…
We saw Hannah in an ostensibly happy, loving, and emotionally balanced relationship with Adam, who had moved in with her to resume their romance following last season's downward spiral for the pair (each had endured an explosive relapse — Hannah with OCD, Adam with alcoholism). Creatively, Hannah's eBook deal was coming together gratis of editor David Pressler-Goings, while Adam was struggling with rediscovering his own passions.
Marnie was shattered over her recent breakup with Charlie, which was somehow sparked by the decision to collaborate on a homemade pizza.
We found Jessa stuck in a drug rehab center upstate, making enemies galore as she accosted her fellow addicts for their "pedestrian" turmoils.
Neither Shoshanna nor Ray were dealing with their breakup too well, the former burning the candle at both ends with a compulsive "life to the fullest" marathon and a drive to ace all her classes, and the latter sulking acerbically.
AS THE SEASON PROGRESSED…
After Pressler-Goings died suddenly, Hannah lost her book deal and was forced to take a day job writing advertorial at GQ (a place she immediately considers herself "too good for," but sticks with anyhow).
Meanwhile, Adam opted to pursue his latent love for acting in a more serious way, throwing his old reservations out the window and actually going on auditions.
We also got to meet Adam's sister Caroline, a flighty and manipulative lunatic who moved in with Hannah and Adam briefly (much to Adam's chagrin), aiming to drive them apart before Hannah kicked her out (also to Adam's chagrin).
Marnie got a cat. She was still sad.
Back in town, Jessa kicked drugs and got a painfully dull job at a baby clothing store.
After running into Ray at Hannah's birthday, Shoshanna began to entertain renewed feelings for him. Her sexual and academic drives progressed.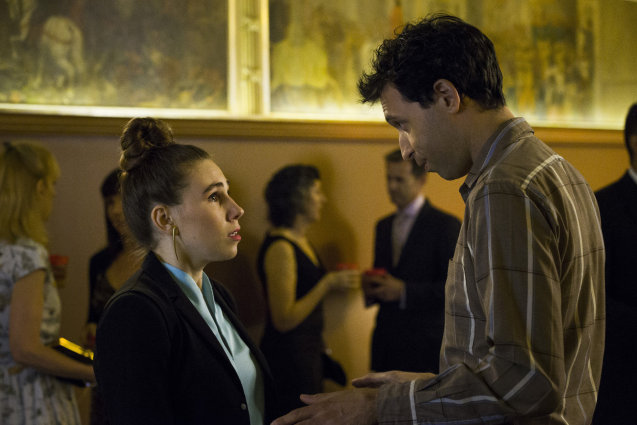 HBO
AND THEN…
Adam landed a role in a Broadway production of Major Barbara. As a result, Hannah began to worry (thanks to the cynical wisdom of Patti LuPone) that he would soon "outgrow" her.
Marnie began a sexual relationship with Ray. She was still sad.
Somehow, Jessa's sole rehab buddy Jasper tracked her down in New York City, courting her through a drug relapse and drumming up a ton of destructive patterns in the young woman. All of this added to Shoshanna's love- and school-related stress.
Also, Elijah returned, in traditional form, and Adam made a theater pal named Desi who caught Marnie's eye.
AND FINALLY…
In this week's season finale, Hannah got accepted into a prestigious creative writing grad school program in Iowa, reigniting her own sense of self-worth after a multi-episode bout of diminished confidence.
We saw Adam's Broadway debut! Although the audience seemed impressed by his performance, Adam considered the night a failure after he lost focus following Hannah's revelation that she might be moving to Iowa (which she told him just before showtime). The two had a tremendous fight, leaving their relationship in flux, but not robbing Hannah of her glee over being accepted into the aforesaid MFA program.
Also, Caroline is back, and pregnant with Laird's (Hannah's oddball junkie neighbor) baby.
Marnie fessed up to Shoshanna about her relationship with Ray, and finally kissed Desi… even after admitting that she has only been validating herself as a sexual object. Old habits die hard. Desi's girlfriend didn't have a ton of kind words for Marnie.
Pretty much out of nowhere, Jessa helped her new employer, an elderly photographer, attempt suicide, only to call 911 at the last minute when the woman changed her mind.
Not a good week for Shosh. In addition to the above news, she found out that she would not be graduating on time due to having failed one of her classes (thanks in large part to her adventurous escapades). She also hit Ray with the information that she wants him back, only to be calmly rejected.
SO WHAT NOW?
We predict we'll see Hannah relocate to Iowa and Adam sink into the world of theater (a for-the-cameras kiss from one of his castmates seemed like it could be hinting at the show's interest in pairing him with a new ladyfriend next season).
We're not so sure about Marnie, though we'd like to see her access some new insight and focus herself on her own passions instead of her goal to satisfy and entrance men.
Jessa? We have no idea, but that gal deserves a win.
Thrown into a handful of whirlwinds this week alone, the graduation-obsessed Shosh might showcase her most explosive arc yet, having lost everything she wanted and believed in (at least that's how she'll have seen it).
What are your predictions and hopes for next season?