'Glee': A Shipper Filled Catch-Up Before The Next Song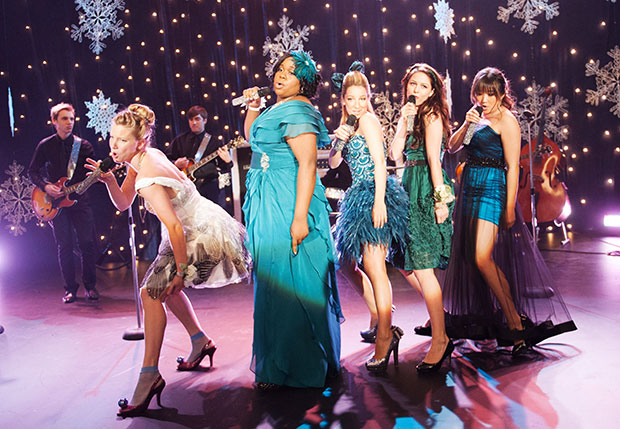 The winter premiere of Glee is just hours away, so to help refresh your memory from all those McKinley-free weeks, we've compiled a super spoiler-y catch-up guide! We also used our powers of penmanship to create a list of the top five things you need to know about what's to come in tonight's episode, "Sadie Hawkins," and many storylines after. And stay tuned for scoop from Lea Michele, Naya Rivera, Darren Criss, Becca Tobin, and more! Read on for all the Glee-filled fun below!
Show: Glee
Where We Left Off: Well, besides the world's most horrible Christmas episode here's what you missed on Glee: Rachel absolutely killed her performance at the NYADA Winter Showcase (yay!) but then she also kissed Brody (boo!). Kurt made it into NYADA after a surprise on-the-spot audition and one adorable ice skating performance later, he and Blaine declared that no matter what, they'll always be friends. Finn is trying to find his purpose in life so when Mr. Schue left for Washing DC to help improve the arts in schools, our former McKinley quarterback took the job as leader of the New Directions. However, despite an amazing sectionals performance, the glee club was disqualified. Why, you ask? Because Kitty was being a crazy back-stabbing cheerio, and a now-bulimic Marley passed out on stage in the middle of their performance. Yikes! Sue took over the choir room and has now declared it her new Cheerio circus ring. Brittany and Sam are now a full-fledged couple (blegh!) and Santana is still cheering her heart out at college (but returning to Lima more often than not). New kids on the block Ryder and Jake are now besties, but it's obvious that they both like the same girl: Miss Marley Rose. And the rest of the gang (Tina, Artie, Sugar, Joe, Emma, etc.) have just been kind of chilling and not getting any screen time.
Biggest Jaw-Dropper of The Fall: There have been quite a few oh em gee jaw-droppers sprinkled throughout the season so far. Blaine cheated on Kurt. Rachel and Finn are not together. Quinn is hooking up with a married man and has absolutely no remorse. Joe is still a member of the glee club (bring back Rory!!). Tina is still not getting any screen time! And of course, the New Directions have no way of competing for Regionals or Nationals this year.
Biggest Let-Down of The Fall: That's easy. All of heart-wrenching, tear-jerking, snot-inducing break-ups. That one episode took all of our beloved couples and completely ripped them apart in a mere 47 minutes. I don't want to talk about it too much more because it's still a very sore subject for me. RIP Finchel, Klaine and Brittana. I'm still keeping my fingers and toes crossed for you!
Most Improved Character: Our shining star Rachel. Whether you love the new Miss Berry or desperately miss the old one, one thing is for sure: she's definitely changed.
Least Improved Character: Without a doubt that would be Joe. Seriously, why is he there?
What We Ultimately Want to See: Gaaah! There are just SO many things that I'd like to see happen. For Finchel, Klaine and Brittana to get back together is of course a top priority. Another must would definitely be having Finn realize what his dreams and passions entail. I'd like to see an amazing Wemma wedding and perhaps and adorable Wemma baby just for fun. I'd love for Tina to get her time to shine and Artie to find a happy relationship. I'd also like to see a lot more of the NYC storylines and I have a feeling that will definitely be happening soon because there's a strong possibility that Santana is headed to the Big Apple! And just for funsies I'd like to see a few relatives return: Blaine's amazing brother, Rachel's perfect dads, and of course more Lord Tubbington.
What Would Make Us Turn Our Backs: If I don't see at least half of the things I listed above by the end of the season then I will seriously go all Lima Heights-Adjacent on someone. Be warned.

5 Reasons You Should Keep Watching: 1. The Ladies Are in Charge: Tonight you'll see Tina come up with the idea for a Sadie Hawkins dance — a first for McKinley High. But why is she so anxious for a turn-around dance? She's got a crush on Blaine! Calm down Klaine fans, you've got nothing to worry about. Becca Tobin and I chatted about the dance and she said it's going to be a blast for fans to watch. Especially because Kitty is ready to pounce on a new fella. Although she wouldn't spill details, Tobin teased, "It's somebody that I have a feeling that fans are going to be excited about." I know it's not Ryder or Artie, but it's most certainly not Finn. "It's not Cory because then my house would be burnt down!" Tobin joked. My money is on Puck!
2. Wedding Bells are Ringing! A few weeks ago I had the pleasure of visiting the Glee set (squee!) and you won't believe what word was written on the Choir Room's white board: "Wedding"! Executive producer Dante Di Loreto confirms, "There is a wedding in the air." While all signs point to a Wemma wedding, Loreto was quick to say that nothing is ever simple on Glee. "There are some things that are going to shock the heck out of you."
3. Plenty of Divalicious Songs: From Tina to Rachel to Santana, the girls of Glee are getting some fierce musical numbers and I can't wait to hear them! Naya Rivera recently expressed her excitement for Santana's songs, saying, "She is actually doing big big things in the episode 'Diva' that we're shooting right now. She gets to sing three songs. One of them is a Tina Turner powerhouse song and then she has got some exciting news coming up." And Miss Lea Michele says that fans can expect an amazing HummelBerry performance. "Oh yeah! We have a great duet coming up in an episode called 'Diva' which we just shot last week," she teased.
4. Shirtless Fellas: In an upcoming episode, "Naked," Rachel is trying to decide if she should go topless in a student film. But while she's deliberating with Quinn and Santana, the men of McKinley are posing sans shirts for a calendar. Yum! They better sell those in stores because I'd buy three… thousand.
5. Reunited Couples! According to Ryan Murphy, two couples could be getting back together by Valentine's Day, but the question is, which two? Lea Michele recently told me that she's never given up on Finchel. "I think that you know there is always hope for them," she said. "I think that they're meant to be!" Naya Rivera has similar thoughts about Brittana. "Yes! I feel like there's always hope for them… And Santana said that she did not call it an official break-up." And of course, I could not forget about Klaine! On set Darren Criss smiled and said, ""Of course I want to see them together in the end." Squee!
Are you excited for Glee to return tonight? Which couple do you think will get back together by Valentine's day? Sing your thoughts in comments below!
Follow Leanne on Twitter @LeanneAguilera
[Photo Credit: FOX]
MORE:
'Glee' Scoop: Naya Rivera Says There's 'Always Hope' For Brittana
'Glee' Star Lea Michele Says Finn and Rachel Are 'Meant to Be'
Leanne's Spoiler List: 'Glee' Star Naya Rivera Talks NYC and Bram, 'Justified' Season 4 Scoop

Child Stars: Where Are They Now? (Celebuzz)