Returning to 'Glee' for a Heartbreaking Goodbye to Cory Monteith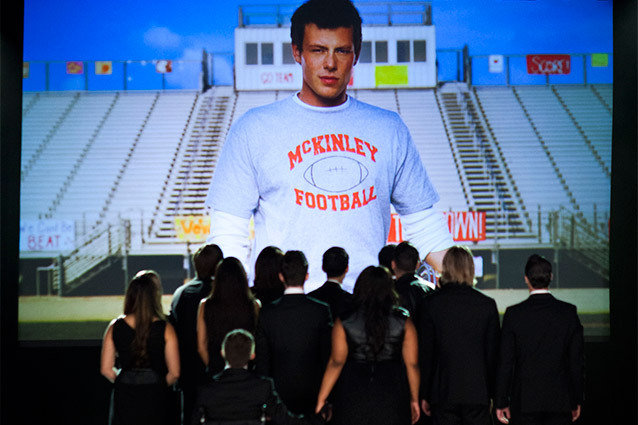 Adam Rose/FOX
Looking at Glee's latest episode, its tribute to recently deceased star Cory Monteith, with any large sum of objectivity would be an act of futility. It is almost impossible to separate yourself, your own feelings about the character, the actor, his cause of death, about your loved ones, about death, when watching an episode as powerful (albeit not flawless) as "The Quarterback." It's hard to have a reaction to this particular episode that is anything short of wholly personal. So here that is.
I returned to Glee this season after a two-year absence, having fallen out of love with the program early on in Season 3. Appreciating musical theater, reveling in the dark wit, and relating (as most Internet writers probably do) to the feeling of high school ostracism, I took a lot of delight in the early, pithy days of the series. Returning for Season 5 out of professional obligation, a love for The Beatles, and a hope for a cathartic influx of tears regarding Monteith's passing (one that I got, in spades), I found myself unfamiliar with some of the new characters and plot points. But the themes carried out in this episode in particular were recognizable ones.
Surprised to see that Kurt would have no solo song of his own, I was relieved when the narrative opened through his internal voiceover, lamenting the death of his step-brother and returning to Ohio for the funeral. Two years after I had severed ties with Glee, Kurt was still in awe of the superman (I believe he uses that very terminology) that his crush-turned-friend-turned-brother always seemed to be. Unconditionally strong in character.
Remembering fondly the difficult, dense relationship shared by Finn and Puck, I was pleased to see how Glee handled this corner of the story: with troublemaker Noah feeling as though he had lost his beacon of integrity, his Jiminy Cricket, and fearing his own descent into any number of unimaginable horror stories as a result. Puck's turn in the episode is perhaps the most interesting. As we all tend to be in regards to the passing of a loved one, he is worried about himself. It is not aa maliciously selfish quality to uphold, but a natural one. The people we care about aren't always independent entities — because of their importance to, and effect on, us, they become functions of us. Part of us. Without this part of him, perhaps the best part, Puck worries that he's only left with the bad.
Similarly, Santana cannot bring herself to be the kind of person she would have liked to for Finn, and for all those others who loved him. Having maintained a vicious air as a defense mechanism for so long, she finds it most difficult at this point to drop this guard, despite wanting to, so very badly. And no, despite efforts, she doesn't exactly bring her wishes to fruition. That is what seems most effective about Glee's tribute. Yes, people come together — Coach Beiste takes care of Puck, Kurt looks out for Santana, Emma tries to provide comfort for Mr. Schu — but people also lash out. Everyone, out of grief and prejudice, is diabolically unkind to Puck. Mr. Schu is dishonest and disloyal to his students in his theft of Finn's Letterman jacket. Sue keeps her revolving door of venom spinning toward everyone, eventually relieving herself of the weight of the same defense mechanism that plagues Santana when she is brought to admit that she thought so highly of Finn. There is a lot of imperfection in the way these people behave. And that's the best way to go about something like this, because it rings the most true.
Of course, we're waiting the whole episode through for Rachel to make an appearance, which she does towards the end. She sings. She offers smiles and tears to Mr. Schu. Then she retreats to not knowing what she'll do next and not being certain that things can ever be okay again. It doesn't end on the same uplifting or hopeful note for her that characters like Puck and Santana are treated to. That, again, is honest. We don't know if she'll be okay. Just like we don't know, when someone close to us dies, if we will. And in this authetnticity, we find a really grounded tribute to Finn, and to Cory.
For all its flaws — the two big ones being no appearance of Diana Agron, whose character was so important to Monteith's, and the bare minimum of focus on Finn's mother — we can call "The Quarterback" really touching: wholly sad, wholly real, wholly honest. There is no appropriate way to organize comfort in the wake of a loved one's death, but the most essential, most healthy, most powerful was to approach the tragedy is with honesty. And for this, those returning fans and those who've been loyal through the seasons can pay thanks to Glee for this tribute.