'Glee': Listen to Songs from 'Lights Out,' Plus: Scoop from Jane Lynch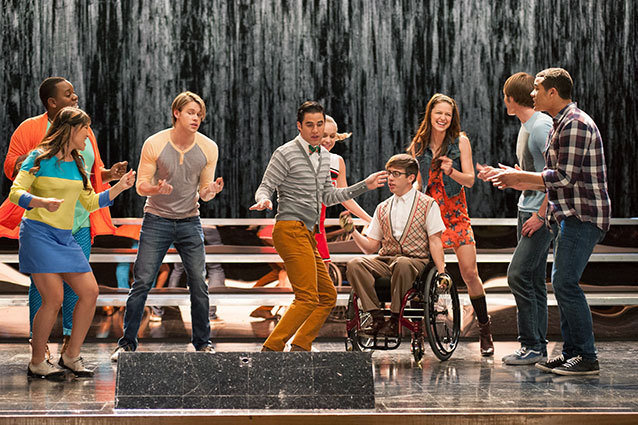 Any Glee fan knows that each week could be a mystery bag of ballads, pop tributes, Broadway classics, or rock anthems. Sometimes the song choices are absolutely phenomenal, while other weeks leave more to be desired. Luckily this week's all-new episode, "Lights Out," features a mixture of six incredibly diverse songs and each one is more fantastic than the next.
While the New Yorkers are showcasing their mind-blowing voices in a beautiful quartet with Sarah Jessica Parker, the New Directions are dealing with a school-wide power outage at McKinely. Bummed that they can't practice with all their electricity-powered instruments for Regionals, Will encourages the group to "unplug" and re-discover their powerful voices.
Inspired by Mr. Schue's assignment, the New Directions really step up their game to bring four acoustic and a capella songs that will make you question if they really even need any instruments to win. Could we possibly see a nod to The Warblers at Regionals this year with an a capella number? Only time will tell but one thing is for sure, you need to hear these six sensational songs from "Lights Out" right away. Plus, get excited Glee fans because I've sprinkled in a little bit of scoop from the episode to make your listening party even more delicious.
"You've Lost That Lovin' Feelin'" — Sam: This infamous Top Gun anthem was Tom Cruise's secret weapon to court pretty bar patrons — and it sounds like Chord Overstreet is now using it to court any girl with ears. Accompanied only with an acoustic guitar, Sam's sugary sweet voice has never sounded better. While I can't reveal exactly why Sam chose to this song, I can tell you that you're definitely not going to want to miss this emotion-packed scene.
"Everybody Hurts" — Ryder: This rendition of R.E.M.'s classic almost sounds like a lullaby when accompanied with Blake Jenner's soft words. During this song fans will get a deeper glimpse into Ryder's mind with an intriguing flashback, and after weeks of waiting we'll finally learn the identity of the Glee catfisher. Bonus Scoop: A secret about Ryder will be revealed in front of the entire group.
"Little Girls" — Sue: I honestly could not imagine a better person to ever sing this uniquely mean-spirited song and Jane Lynch tells me that it sets the scene for a very interesting moment between Sue and Becky. "I'm with Becky and we do a kind of revenge fantasy singing the song 'Little Girls' from Annie," she says. Luckily Broadway fans will be treated to many more songs when the Glee actress hits Broadway this summer to star as Miss Hannigan in the hit musical. Lynch explains, "Ryan [Murphy] put that in the show because it was appropriate and also because it will help me cross-promote [my appearance] so it was really nice. A nice little practice."
"At The Ballet" — Santana, Rachel, Kurt, and Isabelle: This song is without a doubt, one hundred percent, absolutely gorgeous. Weeks ago Ryan Murphy tweeted this and this, so you know it's going to be a very special performance. We're already well aware of Santana, Kurt and Rachel's mesmerizing voices so it's nice to hear Sarah Jessica Parker keeping up with our talented trio. Now please excuse me while I re-listen to this Broadway classic over and over again.
"We Will Rock You" — New Directions: We've all heard this Queen rock anthem tons of times — whether in high school before a big game, or maybe just in your bedroom when you're getting ready for a big day. So when Mr. Schue learns about a rival glee club member with ridiculously powerful voice (American Idol's Jessica Sanchez) The New Directions decide it's time to get pumped up for what is looking to be the most pulse-quickening Regionals we've ever seen on Glee.
"For The Longest Time" — New Directions: This a capella favorite was originally performed by Billy Joel and the New Directions definitely make him proud in this foot-tapping cover. Each glee clubber gets their time to shine in this final song of the episode, but it's especially wonderful to finally to hear Kevin McHale and Becca Tobin's voices highlighted on something this season.
Which song from "Lights Out" are you most excited to see on Glee? Cast your vote in our poll below and then take to the comments with your thoughts on the episode!
Follow Leanne on Twitter @LeanneAguilera
MORE:
Is 'Glee's 'Don't Stop Believin" Better The Second Time Around?
'Glee' First Listen: The Songs (and Scoop!) From 'shooting Star'
Mel B. Loved The 'Glee' Spice Girls Tribute: 'i Was So Happy!'