'Glee' First Look: Britney Spears (Songs) Describes The Hot New Photos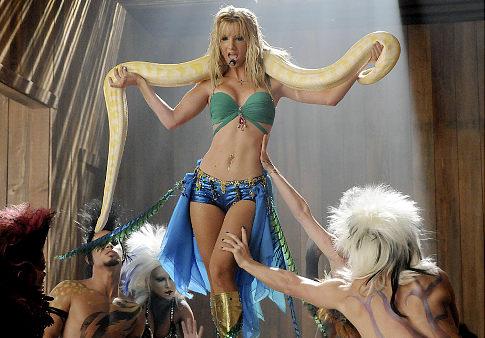 Oh baby, baby! Even though the new season of Glee hasn't premiered yet, we're already obsessing looking forward to the second episode. What makes this episode so special, you may ask? It's Britney, bitch!
Whip out your best schoolgirl skirt, crop top, and fuzzy hair accessories because Glee is once again channeling the Princess of Pop, Britney Spears. And we don't know how it's possible, but this episode looks like it's going to be even more incredible than the first one. FOX just released the official episode summary and we're currently thanking the TV gods for keeping for keeping our favorite Fondue for Two host at McKinely High this year:
"Brittany S. Pierce (Heather Morris) is in a funk and turns to her icon Britney Spears' music for inspiration! Meanwhile, Rachel (Lea Michele) struggles to adjust to life in New York, but is helped by her newfound NYADA friend, Brody Weston (Dean Geyer)."
It's been confirmed that Rachel and Brody are teaming up to impress their overly harsh NYADA teacher Cassandra (Kate Hudson) with super sexy, ridiculously steamy version of "Oops!… I Did It Again." We can practically hear a collective hiss from the Finchel fandom, but remember guys, it's just a dance. To help get you just as psyched as we are, we've gathered up your first look photos of "Britney 2.0," pulled out all our favorite Britney CDs, flipped through the tracks, and found the best lyrics to describe each picture. 
Warning: If you still think Rachel is going to dress like "one of the bait girls on How To Catch a Predator" (Santana's words, not ours) in this Britney episode, then you'll definitely want to proceed with caution…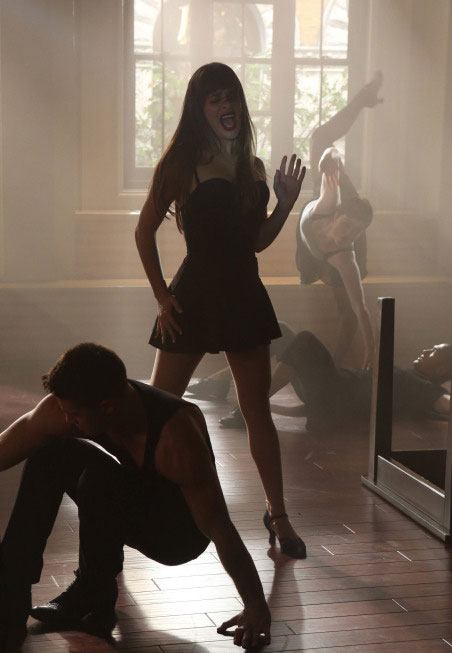 "Stronger": 'Cause now I'm Stronger than yesterday. Now it's nothing but my way. My loneliness ain't killing me no more.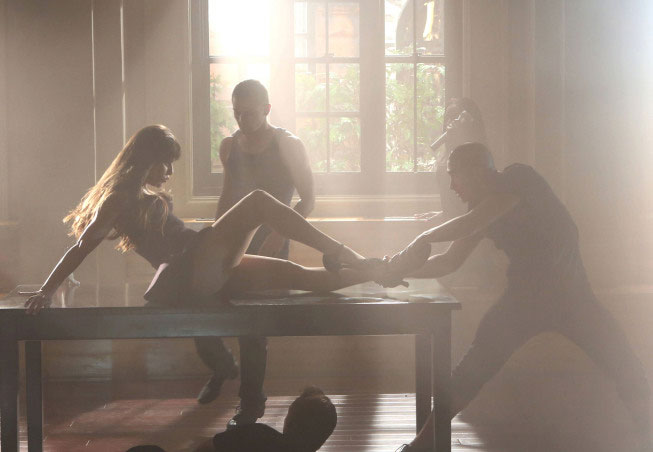 "I'm a Slave 4 U": All you people look at me like I'm a little girl. Well did you ever think it'd be okay for me to step into this world?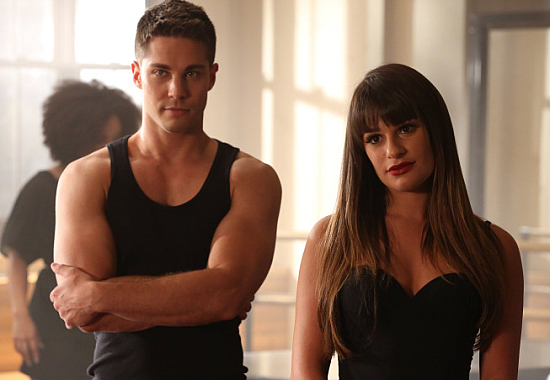 "Boys": You're a sexy guy, I'm a nice girl. Let's turn this dance floor into our own little nasty world.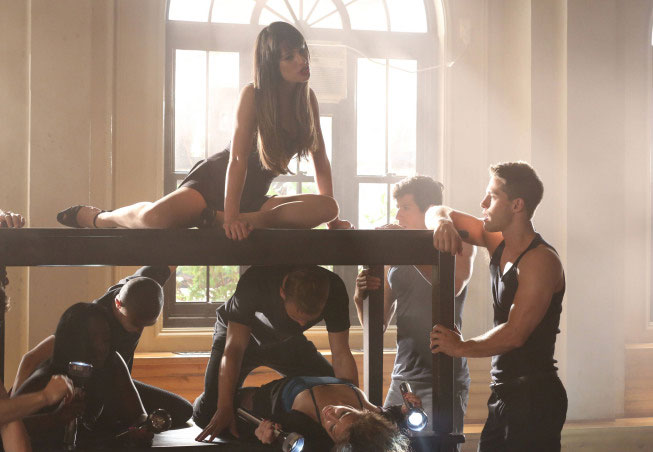 "If U Seek Amy": Love me, hate me, say what you want about me. But all of the boys and all of the girls are begging to if you seek Amy.
NEXT: More Britney-Inspired Awesomeness!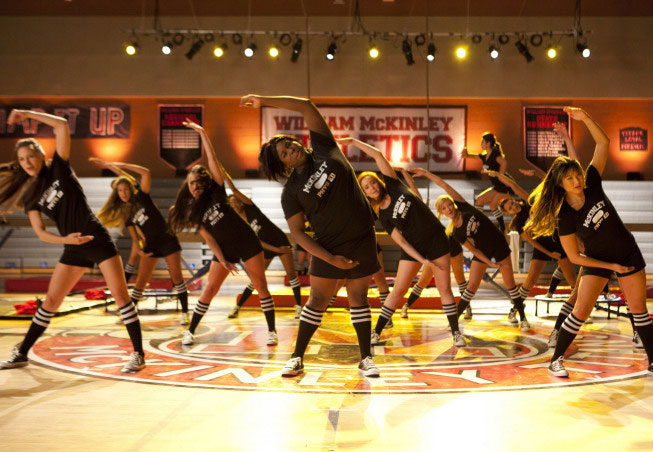 "Circus": There's only two types of people in the world: The ones that entertain and the ones that observe. Well baby, I'm a put-on-a-show kind of girl, Don't like the backseat, gotta be first!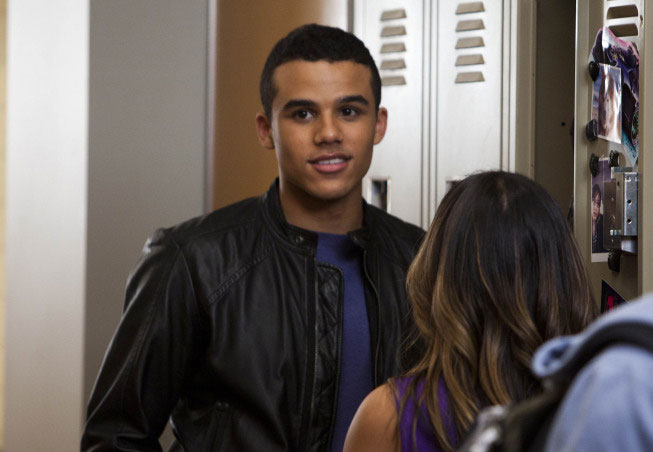 "(You Drive Me) Crazy": Baby, I'm so into you. You got that somethin, what can I do? Baby, you spin me around. The Earth is movin, but I can't feel the ground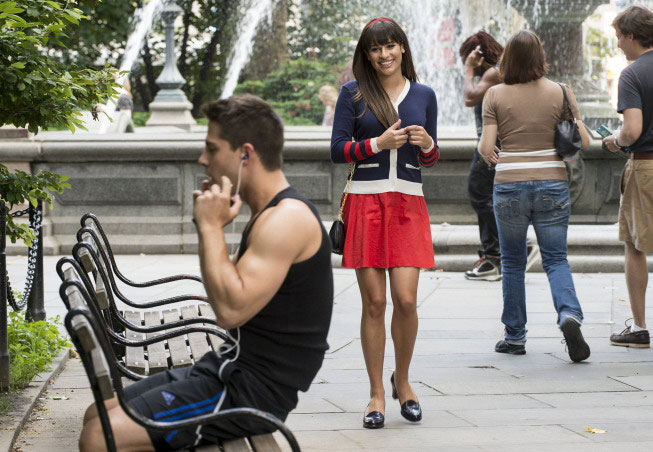 "Toxic": "Baby, can't you see? I'm callin'. A guy like you should wear a warnin'. It's dangerous, I'm fallin'.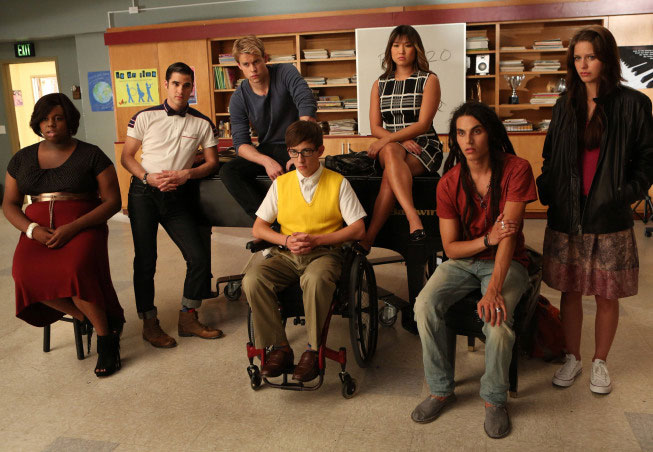 "Me Against The Music": If you really wanna battle, saddle up and get your rhythm. Tryin' to hit it, cuz in a minute I'ma take a you on!
Are you excited for the new Britney tribute episode? What do you think of the sexy new photos? Tell us your favorites in the comments below!
Follow Leanne on Twitter @LeanneAguilera
[Photo Credit: FOX]
MORE:
'Glee' Sneak Peeks: Lea Michele on Finchel's Fate and Her Naked New Man
'Glee' First Look: We Break Down The Season Four Portraits!
'Glee'k Out! Why Are Dianna Argon and Jayma Mays Missing? — PIC