'Glee' and 'How I Met Your Mother' Both Covered a Billy Joel Classic: Who Sang it Best?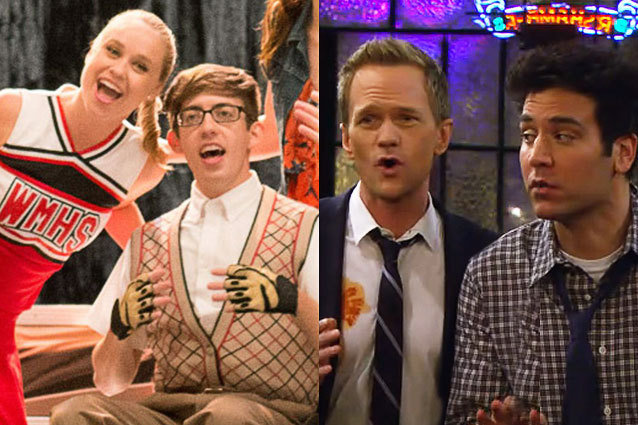 Get ready people! The mic has been dropped and a battle royale has just begun the in the world of pop culture,  but we need your help to decide who should be deemed victorious. In one corner we have a favorite CBS comedy, How I Met Your Mother, and in the other we have FOX's musically inclined hit Glee.
Both shows recently performed a toe-tapping, smile-inducing cover of Billy Joel's '80s smash "For the Longest Time," and although each rendition was admirable and insanely catchy, there can only be one winner in this series showdown. (Interestingly enough, both shows have crooned Joel tunes before). Take a look at all of the performances below and then cast your vote for your favorite a capella act.
First up, let's take a look at How I Met Your Mother's triple take. In "The Time Travelers" present day Ted and Barney, Barney from 20 minutes in the future, Ted from 20 hours in the future, and Ted and Barney from 20 years in the future form a doo-wop group at the end of the episode. It's short, sweet, and absolutely mesmerizing when you think about how many times they had to reshoot the scene with all six characters in place.
Now let's switch from NYC to Lima, Ohio where the kids of McKinley High gave a hip swaying, finger-snapping a capella performance under the bright lights in their auditorium. Each glee club-ber gets their time to shine in this final song of the episode but are their smooth moves enough to make them snatch a pre-Regionals victory?
Now, finally let's take a look at the '80s original that started it all. The video begins with a man — conveniently played by Joel—in a gym after his 25th high school reunion. While he's looking around at all of the class awards, he breaks into song as he and his high school friends switch back-and-forth from their past and present selves.
Now that you have all refreshed your memories and firmly have this song stuck in your head for the rest of the day it's time to decide who sang it best. Vote for your favorite in our poll below and then take to the comments to defend you pick!
Follow Leanne on Twitter @LeanneAguilera
MORE:
'How I Met Your Mother' Recap: An Episode Analysis From The Present And Futures
'Glee' Recap: 'Lights Out' In Lima While NYC Shines Bright
'Glee': Listen To Songs From 'Lights Out,' Plus: Scoop From Jane Lynch
---
From Our Partners


15 Nude Photo Scandals (vh1)


33 Child Stars: Where Are They Now? (Celebuzz)