'Glee'k Out! Why Are Dianna Argon and Jayma Mays Missing? — PIC

Quick! Sound the alarm! Something is off in the Gleeniverse! Well, the news isn't all bad, really: a new promo was released (thanks to a Twitter-happy Ryan Murphy) showing off the season four cast in all its glory. This is obviously very exciting as it shows all the returning kids (and some newbies. Gleebies?), as well as a playful old road sign pointing to different places. Los Angeles! New York! St. Louis! Lima!
But wait…why isn't New Haven on that sign? (And not just because I'm from there and love extolling the virtues of the tiny city-that-could to random strangers.) And where is…Quinn? And for that matter, where is Ms. Pillsbury? Check it out below: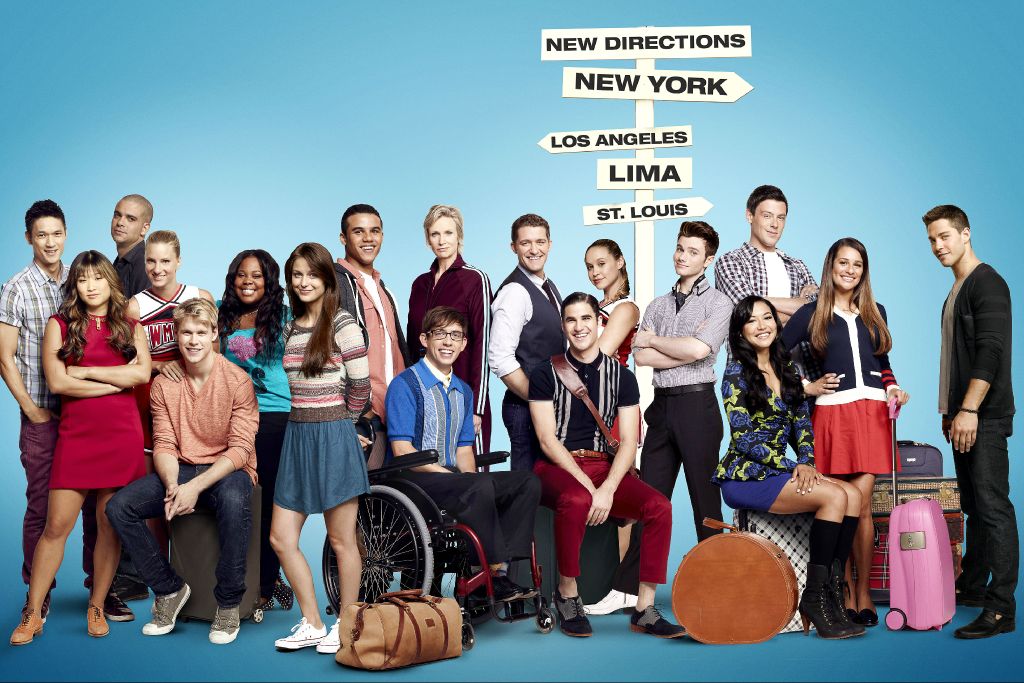 well, see, that's the bad news part: both Dianna Agron and Jayma Mays are missing from this promo, and fans are in quite an Internet tizzy trying to figure out why. And with no real, official information to go on, fans started losing their ever-loving s**t. Seriously, Twitter and Tumblr were aghast–aghast I tell you!–over the image. What does it all mean? Does Quinn lose her way in Fairfield county on her way to New Haven, charmed by a wealthy hedge-fund executive from Greenwich and whisked off to a life of luxury that doesn't involve Lima, Ohio? Did she run away with Sam to join a religious cult or join a mission? Has she decided to bury herself underground and you just can't see the arrow pointing towards her because all those people are crowded around the pole? What? What is it, what could it be? Regardless of the hypotheticals, all that Glee fans could do was overreact and wonder. So, Master of the Gleeniverse (I'm really starting to like that phrase), Ryan Murphy stepped in to quell the fears about young Quinn Fabray.
Gleeks, please relax.Dianna is still on the show. We love her and have great plans for Quinn. #QuinnFabrayLives
— Ryan Murphy (@MrRPMurphy) August 24, 2012While this is great and all, it still leaves many an unanswered question: so if Quinn isn't on the poster, is she no longer a full-time cast member? Does the same go for Ms. Pillsbury? Why didn't Mr. Murphy address those concerns? Did she OCD herself into a ball of spontaneously combustable energy and disappear into the ether? TELL US, MURPHY. Tell us now!
What do you think of the image? Are you worried about the fate of characters Quinn and Ms. Pillsbury? Sound off in the comments!
[Photo Credit: FOX]
Follow Alicia on Twitter @alicialutes
More:
Exclusive: Gloria Estefan Will (Probably) Return to 'Glee' This Season
'Glee' Promo Teases Kate Hudson, New Haircuts, Same Brittany
Dianna Agron films Glee-themed PSA against texting and driving